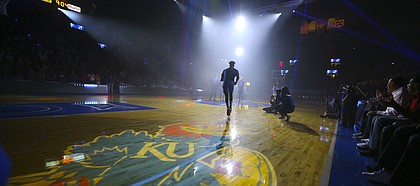 Frustrations from KU fans unable to see the six men's basketball games broadcast only by Jayhawk TV during recent years are now a thing of the past.
Thanks to a new agreement between KU and its media partners, which includes an expanded lineup of Spectrum Sports, Cox Cable, KMCI, MidCo Sports Network and ESPN, the blackout associated with those six early season, men's basketball games has been eliminated.
Jayhawk fans across the country, including in Kansas, now will be able to see every KU basketball game either through one of the cable providers listed above or via ESPN's new direct-to-consumer streaming platform known as ESPN+.
"We are thrilled to have an inclusive and expanded media coverage solution for our KU alumni and fans," said new KU athletic director Jeff Long in a press release. "A special note of thanks to Spectrum Sports for not only elevating our coverage over the last four years, but for helping us get to this point with an internal production solution. With our over-the-air and cable partners, paired with our ESPN+ agreement, we are pleased that more Jayhawks than ever will be able to follow us."
KU administrator Jim Marchiony, who has been with the athletic department for years and, therefore, been privy to complaints from disgruntled fans in Kansas who were unable to see the early season basketball games, said Thursday's announcement was a direct result of listening to the frustrations of its fan base.
"We have been attempting to structure it this way for a few years now," Marchiony said.
Very little about the specifics of the content will change, outside of who can access it and how.
Through its in-house video production arm known as Rock Chalk Video, Kansas Athletics, during the 2018-19 school year, will show roughly 100 live KU sporting events — up 20 or so from the old deal — and continue to offer additional hours of original programming via a 30-minute pregame show and 60-minute postgame show for every home and away KU football and men's basketball game, along with replays of select KU coaches' weekly Hawk Talk segments.
That, too, will now be available to a new set of eyes.
"This will be the first time that anybody outside of the state of Kansas will be able to access the pre(game) and postgame shows," said Todd Kober, KU's associate AD for external branding.
As for folks in Kansas who have DirecTV or Dish Network as their television provider, Kober said anyone with those satellite services who is within range of KMCI would be able to pick up the six early season men's basketball games over the airwaves.
Those not in range now will have the option of accessing the games through ESPN+, which requires an Internet connection and carries a monthly subscription fee of $4.99 per month. But, according to KU administrators, it's a significant upgrade over the ESPN3 system that previously blacked out those games for Kansas residents.
Marchiony said the expanded service would not be "a drain on our budget," and added that any additional revenue coming KU's way likely would be offset by the added production costs experienced by Rock Chalk Video.
Marchiony also said the financial elements of the new deal were minimal since ESPN would absorb a large portion of the production costs given the fact that so many of KU's 100 or so live events would be available via ESPN+.