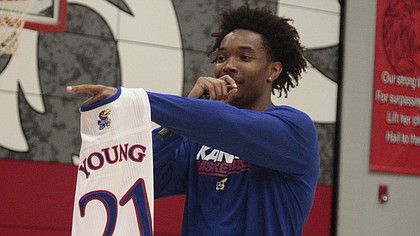 Lansing — The Kansas Barnstormers game served as the best of both worlds for Kansas senior basketball player Clay Young on Saturday at Lansing High School.
Young teamed up with fellow former Lansing stars Khalil Bailey and Dontae Gibson, as well as KU seniors Devonte' Graham and Svi Mykhailiuk to lead the Barnstormers to a 118-96 win against the 810 Varsity All-Stars. The victory and game-high 31 points paled in comparison to what it meant for Young to play again in his hometown.
"It means a lot. It's something you think about being such a local guy," Young said. "All of the guys before us all did barnstorming events, so it was kind of in my head all year long that maybe we could do something like this back here. To see it come together and to see these people out here means a lot to me. For me to be able to come back and do something like this with my hometown, it's just a really good feeling."
Although Saturday was a homecoming for Young, it had a unique feel to it. Young — who helped Lansing to the state championship game his senior year — had never played in the Lions' new gym.
"I would have liked to play in the gym that I played in for this event, but this gym is ridiculous. It's super nice," Young said. "It's brand new. They've got great facilities here now. I'm jealous. I wish I would have had this when I was in high school, honestly, but it was good, though. I liked it."
Along with showcasing their basketball skills, Young, Graham and Mykhailiuk auctioned off raffle items during timeouts and signed autographs before and after the game. The proceeds of the raffle went to Lansing High, the Barnstormers and helped cover expenses for the event.
"It's just all about interacting with the fans. A lot of them came up to me saying, 'I only get to see you on TV. It's nice to meet you in person,'" Graham, who added 18 points, said. "They read all of the articles about me and stuff. Bringing what they see on TV and what they read about, I was just trying to show them that side."
Part of what made Saturday exciting for Graham was being able to go up against a future KU player in Free State senior Garrett Luinstra — who will walk on for the Jayhawks.
"I met him when he came through and we was giving him the tour and stuff like that. He's going to love it when he gets out there," Graham said of Luinstra. "Everybody is going to accept him. It's going to be unbelievable for him."
Luinstra scored 12 of his 14 points in the first half. The Free State senior enjoyed playing against the likes of Graham, Young and Mykhailuk, and he can't wait to begin his own experience as a Jayhawk.
"Ever since I was growing up, it was always one of my dreams to play there," Luinstra said. "Walking on, scholarship — there's no better experience than Kansas."
Luinstra wasn't the only future Jayhawk in action. Fellow Free State senior Jalan Robinson, who will continue his football career at Kansas, scored five points. Robinson used his big frame to crash the boards, score down low and create open looks for his teammates when he played for the Firebirds, but the fans at the Barnstormers game wanted him to show off his range. The Free State senior was hesitant, but he finally let it fly from long distance in the second half. Robinson drained the 3-pointer and finished with five points.
"This was going to be my last time probably playing on the court," Robinson said. "I had the whole place yelling at me the whole game to take a shot. I came in and hit the 3 and the place went crazy. That was really exciting."
Sharing the court one last time with Luinstra was an experience that Robinson treasured. Robinson and Luinstra have been teammates for the past decade since they also played together for JC Hoops in AAU ball before suiting up for Free State.
"A lot of people don't know that we played AAU together, so we've been playing together since we were about 8," Robinson said. "We've started together, finished together. It was good."