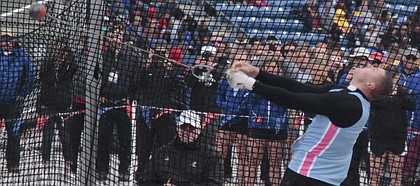 Kansas sophomore Gleb Dudarev wasn't feeling his best leading up to the men's hammer throw competition at the Kansas Relays on Friday at Rock Chalk Park, but one wouldn't have known it by the way he was throwing.
The Vitebsk, Belarus native put together a record-breaking performance, as he won the competition with a throw of 256 feet (78.04 meters). Dudarev's personal-best throw broke a 35-year-old Kansas Relays record, the KU school record and Rock Chalk Park record.
The throw not only etched Dudarev's name all over the Kansas record books, but it gave him the top mark in the NCAA and fifth best in the world this year.
"I was sick this week, but I did well," Dudarev said. "I don't know why. It's really exciting. I don't understand how I threw really big meters."
Dudarev's final four throws all sailed at least 75 meters. The career-best day for Dudarev had him feeling thankful for everyone who has contributed to his success, but also eager about what the future could hold.
"It's so exciting. It's really amazing," Dudarev said. "It's big meters. Thank you so much to my family, my coach, my girlfriend that support me.
"I really work hard for big meters. It's really big for me. I think about (the) NCAA Championship and probably (the) European Championship. It's big competition."
The hammer throw was the only event on Friday that counted toward the scored quadrangular that features KU, Kansas State, Harvard and Nebraska. Dudarev and sophomore Brandon Lombardino placed first and fifth, respectively. Freshman Rachel Clowers placed eighth for the KU women.
KU alumnus Stigler shines in open 400 hurdles prelims
Former KU standout Michael Stigler coasted to a first-place time of 51.62 in the 400-meter hurdles prelims.
Stigler qualified for the final heat of the 400 hurdles, which is scheduled for 4:30 today.