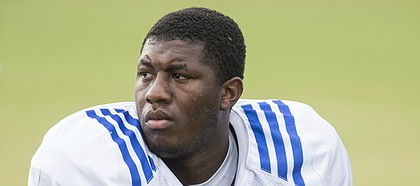 No doubt experiencing the same emotions as many Kansas football fans following the Jayhawks' second consecutive blowout/shutout defeat, exasperated redshirt junior defensive tackle Daniel Wise had seen enough by the end of a 43-0 loss Saturday at TCU.
As KU's players huddled up afterward in the visiting locker room at Amon G. Carter Stadium, Wise's frustrations boiled to the point that the captain from Lewisville, Texas, felt inspired to address his teammates with "the truth."
Speaking with media members Tuesday for the first time since his impassioned words behind closed doors, Wise explained he noticed too many Kansas players hadn't taken matters seriously enough.
"It's not going to feel the best," he said of witnessing Jayhawks fall short in that category, when team captains such as Joe Dineen, Jeremiah Booker and Dorance Armstrong Jr., as well as others who have "been here for a while," seem to have more invested in the team's performances and the perception of the program.
Podcast
The KU Sports Hour
On this episode of the KU Sports Hour, hosted by KU football beat writer Benton Smith, the KUsports.com staff discusses ...
"Some guys might not take it as serious … I'm not quite sure why," Wise said. "But we just try to not harp on it too much, but let them know, 'Hey, this is a game we're all trying to have a future in,' and just try to get them on the same page as we are. Not trying to be too brash or be too negative, but just try to talk to those guys one-on-one."
Teammates who witnessed Wise's message after KU (1-6 overall, 0-4 Big 12) lost its sixth straight game shared their appreciation for his words.
"There's always that frustration after a game," sophomore nickelback Bryce Torneden said. "But I think Daniel just stepped up and made it visceral for everyone. He kind of said what everyone was thinking and put it out on the line, and we've just got to take it and run with it. He's obviously a great leader and that's why he stepped up and said the things that needed to be said."
At the heart of Wise's speech, Torneden shared, was a straightforward directive: "We can't get used to this."
"This losing thing, we've got to change some things, whatever it may be, we can't just keep going through the motions," Torneden related of Wise's post-loss address. "Just be better. The coaches aren't the problem. We're the problem. We've got to do everything better. We've got to practice harder, things like that."
Considering the past three Saturdays since KU's bye week have resulted in a 65-19 loss to Texas Tech, a 45-0 beating at Iowa State and the 21-yard TCU debacle, Kansas quarterback Peyton Bender wasn't surprised to hear Wise speak up.
"I think it was just a culmination of the last few weeks, just kind of built up, and a poor display on Saturday kind of flipped a switch," Bender said. "That's the first time he's been pretty upset and addressed the team after a game with some strong words for us. But I think it was good. He's a guy who plays his tail off every play, and just to see his frustration means we've got to do better as a team for those guys."
A fellow captain of Wise on the defensive line, junior Armstrong said the vibe in the locker room in Fort Worth, Texas, set the stage for a leader to step up and say something.
"I'm pretty sure he's tired of losing, just as much as everybody else," Armstrong said
The words from Wise that registered most with Armstrong were performance-based.
"Stop talking and actually be about action," Armstrong shared. "A lot of guys walk around here and say this, say that. But their action doesn't match it, and I think that's something we're actually kind of tired of."
The heat of the moment might have brought on a more extreme form of leadership, but Wise says team captains, and players such as Ben Johnson and Hakeem Adeniji, try to take a collective approach to get everyone on the same page at all times.
Wise said no single point in the TCU loss or afterward in particular stirred him to articulate his frustration.
"Just a passionate message that guys need to hear. Just make sure that guys are still uplifted, keeping their heads high," he explained. "And the truth."
The fiery defensive lineman hopes with five games remaining in what has been a season that has failed to live up to internal expectations, the players will "keep fighting, keep swinging."
Bender thinks that post-game moment can only help Kansas, leading into this week's Sunflower Showdown at Memorial Stadium (2 p.m. kickoff, FOX Sports 1), versus Kansas State (3-4, 1-3).
"The core of his message is just the play that we've shown is unacceptable. We've got to be better," Bender said. "The play was unacceptable in my opinion, as well, sure as it was the whole offense. But sometimes a guy saying something like that can spark a team. I think it was good for us. I think it will help us work harder this week to prepare for Saturday."