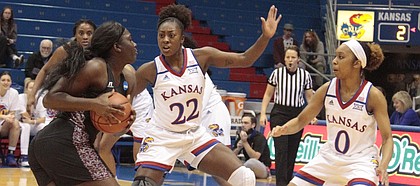 After a strong first quarter sparked the Kansas women's basketball team to an 18-point victory over Campbell in the Jayhawks' season opener on Sunday, Brandon Schneider's squad used a big second quarter to pull away from Texas Southern in a 72-37 win over the Tigers on Wednesday in Allen Fieldhouse.
The Jayhawks (2-0) clung to a 16-14 lead at the end of the first quarter before outscoring the Tigers, 24-2, in the second. Kansas used a 2-3 zone defense that helped hold Texas Southern to 1-of-11 shooting in the second quarter and 14-of-54 on the night.
"Coach Brandon said at the beginning that we want to be known for our defense and our toughness on defense and I think we showed that in the first two games pretty well," said junior Kylee Kopatich, who came away with three steals to go along with her game-high 19 points.
The Kansas perimeter of Kopatich and junior transfers Christalah Lyons (17 points, four assists) and Brianna Osorio (15 points, three assists) made it a long night for the Tigers, who were already without last year's Southwestern Athletic Conference's leading scorer Joyce Kennerson. With Kennerson sidelined, Schneider liked the Jayhawks' chances with their zone defense.
"Their point guard was out tonight, and we were not aware of that until the game started. We felt like that took one of their perimeter shooters out of the game and felt like we could really communicate where (Kaitlyn) Palmer was," Schneider said. "If we could do that, then we could have some success in zone. I think the big difference in the second quarter was we just took much better shots. We shared the ball a lot more."
The Jayhawks, who surged out to a 17-0 lead against Campbell, jumped on the Tigers early as well — taking an 8-1 lead in the first three minutes. However, senior Chayla Cheadle left the game at the 6:46 mark of the first quarter and didn't return after her head hit the floor following a charge that she picked up. Schneider said following the game that he believes Cheadle "probably has a concussion," but he was pleased with how freshman Micaela Wilson stepped in in her absence while making her collegiate debut. Wilson scored six points and led the Jayhawks with eight rebounds.
"Micaela Wilson was going to play tonight regardless, but I think it really opened the door for her to come in and play significant minutes," Schneider said. "It was her first college game and (she) goes in there and gets eight rebounds and knocked down a few shots and I thought really did a nice job, especially in our zone defense, of being a good communicator and rebounding the ball."
Communication is that much more critical for Schneider's squad as it plays without 2016-17 Big 12 Newcomer of the Year Jessica Washington, who is out for the season with a torn ACL. Lyons has helped to fill that void so far for the Jayhawks thanks to her court awareness and aggressiveness.
"She's a true point guard, but we're asking her to be assertive on the offensive end," Schneider said. "With Jess' injury, we felt like that we were going to have to get some additional scoring from her and from Brianna Osorio as well."
Lyons got the Jayhawks rolling in the second quarter with back-to-back buckets, and she got her teammates involved as well. The Trinity Valley Community College transfer had a chance for two more points as she penetrated the Texas Southern defense, but instead dished it out to Kopatich for one of her three 3-pointers.
"Christalah is amazing. I don't know how she does those floaters," Kopatich said. "She just gets them so easy for her. I love her game and she's able to kick it to the open person, too. We rely on her so much, and I just love the crap out of that girl."
As the Jayhawks continue to try to gel offensively with Lyons as their floor general, Schneider knows that his team will still need to pride itself on defense — especially with tougher competition looming later in non-conference and Big 12 play.
"I think we're committed to it," Schneider said. "I think we understand that we may not be a prolific offensive team, so we're going to have to be the kind of team that relies on our defense every single night."
Palmer paced the Tigers with 14 points against the Jayhawks' zone, but she only shot 33 percent from the field (5-for-15). The Texas Southern senior knocked four of her 11 attempts from behind the arc, while her teammates combined to shoot 0-for-10 from deep.
The Jayhawks will continue their nine-game homestand to open the season when they take on Yale at 1 p.m. Sunday in Allen Fieldhouse.