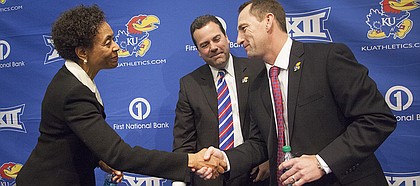 The day after David Booth's $50 million donation was announced at a dinner at the Jayhawk Club attended by most of the coaches in the University of Kansas athletic department, I chatted with Booth for 20 minutes before KU's 56-34 loss to West Virginia.
In talking about his mutual-fund business, he revealed a personality that doesn't demand immediate results "or else!"
"You play for the long haul," Booth said. "You try to do things the right way. You try to do the right thing and that's all you can do."
He doesn't claim to be an expert on football.
"Running my business I think I know what the right thing is," Booth said. "I don't know what the right thing is to do with the football program, but I have confidence, particularly with the current lineup. The new chancellor, I think, is going to be terrific."
Booth also shared that he was more than a little impressed with the coaches in the athletic department.
"In terms of quality people, they're great people running a great program, trying to do it the right way," Booth said. "That's all I ask for: Good clean program run the right way."
I don't believe Booth threw his body in front of the runaway freight train of momentum in favor of the firings of Sheahon Zenger and David Beaty. I believe that he doesn't think his generosity qualifies him to make those calls. He knows what he knows and doesn't claim to know it all. It's refreshing, even if in this case it contributes to a painful result.
Booth's donation was the biggest in school history. As a result, many might have read right through the other names on the original press release that kicked off the campaign. Dana and Sue Anderson, now living in Lawrence full-time, and the Mike Beatty family of Salina also were mentioned prominently as generous backers of the project. (Note the spelling. No relation to the football coach).
So with boosters not demanding firings, Dr. Douglas Girod kept everyone in place, apparently because he likes the way the stadium campaign is moving along.
It's impossible, really, to explain how an AD who has hired football coaches — Charlie Weis, interim Clint Bowen and Beaty — who have combined for a 5-59 record vs. FBS competition (Beaty has gone 1-30 vs. FBS programs) have earned it.
But it's easier to see why donors didn't demand they be replaced. Beaty and Zenger are nice guys. Donors like them. Times have changed since Leo Durocher famously said, "Nice guys finish last!"
Nice guys still finish last, but at KU they get to keep their jobs.