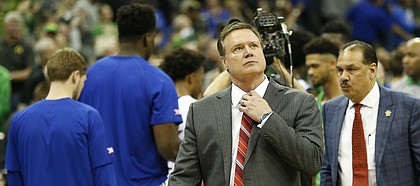 The sun did, in fact, come up in Lawrence on Sunday morning, but its arrival was not the signaling of the beginning of Final Four preparations for the Kansas men's basketball team.
Instead, the dawning of a new day merely hammered home the nightmare reality of what took place less than 12 hours earlier at Sprint Center in Kansas City, Mo., where top-seeded Kansas fell to No. 3 seed Oregon, 74-60, in a Midwest Regional championship game that featured the Jayhawks playing their worst offensive game of the season and more heartbreak for Bill Self's squad.
"Feel like my life is over," senior point guard Frank Mason III posted on Twitter late Saturday night. "Thanks for everything Jayhawk Nation. You guy(s) will forever have a special place in my heart."
For the second year in a row, Kansas' season ended in the Elite Eight, one win and a few possessions shy of the Final Four.
Last year, after falling to eventual national champion Villanova in the same round in Louisville, the Jayhawks used the devastating defeat as fuel for a similar run in 2017. Now, with a sensational 31-win season gone in the snap of one's fingers, the Jayhawks are forced to move forward with more gas in the tank and the hope that their fate will be different 12 months from now.
"Yeah, definitely," said sophomore guard Lagerald Vick when asked if he thought his team again would use the Elite Eight loss as motivation for another run in 2018. "It'll be wrapped up in my head all the way up until this time next year. Definitely."
While next year seems like forever away, the Jayhawks, who finished 31-5, were struggling with the more immediate future on Saturday night.
"It's going to hurt for a couple days, so I honestly don't know what I'm going to do," said junior Devonté Graham, who missed all seven shots he attempted in the season-ending loss.
The pain and heartache were evident on the faces of every player in the Kansas locker room following Saturday's loss. And one of the biggest reasons so many Jayhawks were moved to the brink of tears was the fact that the loss to Oregon, in which Kansas delivered its worst offensive performance of the season, signaled the end of the line for seniors Landen Lucas, Mason and Tyler Self.
All season, those three — particularly Lucas and Mason — were the leaders of a Kansas team that yet again won the Big 12 Conference, tying UCLA's record of 13 consecutive conference titles, and rolled to a seventh No. 1 seed in the past 11 NCAA Tournaments.
Between the tears and hugs, frowns and heavy sighs, Kansas coach Bill Self, who fell to 2-7 all-time in Elite Eight games (2-5 at Kansas), took a minute Saturday night to reflect on the careers of two players for whom he showered constant respect and admiration throughout the season and their time at Kansas.
"I think they know how we all feel about them and certainly how I feel about them," Self said of Lucas and Mason. "They've been unbelievable. Everybody's got stories, but the paths that these two took to get to the point that they've been, and what a big part of our program they have both been, is pretty amazing and remarkable.
"Landen has had an unbelievable last two and a half years playing for us, unbelievable, and he does so many things that (don't) get recognized. But he's a great, great teammate and good guy.
"Frank had the best year of anybody I've ever coached, and he's as tough as anybody I've ever coached. He loves this place as much as anybody I've ever coached, and I hurt for them. Certainly they've left their legacy and certainly they should be very proud of their accomplishments."
With that, the offseason officially arrived. The next several weeks and months will bring with them individual workouts, team activities, never-ending recruiting and the arrival of a few new faces, some known and others still to be determined.
"Every year coach does a good job of recruiting guys and bringing in guys, and we still know that a couple guys are coming back," Graham said. "The future's bright for us."
Added sophomore Lagerald Vick: "Coach Self is the man."
— See what people were saying about the game during KUsports.com's live coverage.
---
More news and notes from Kansas vs. Oregon
---