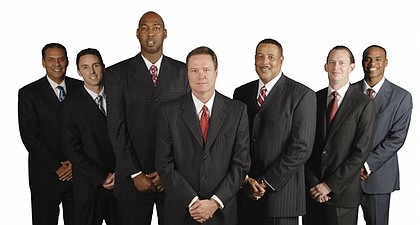 Bill Self's coaching tree never has looked more lush than it will on Selection Sunday.
Each coach is allowed three assistant coaches with full recruiting privileges, and six different men have served in that capacity during Self's 14 seasons at Kansas.
All six men will coach in the upcoming NCAA Tournament, including three as heads of their own programs.
Joe Dooley's Florida Gulf Coast squad earned a spot in the 68-team field by defeating North Florida, 77-61, in the Atlantic Sun Tournament championship game Monday, giving the school its second consecutive NCAA tournament appearance under Dooley, in his fourth year at the Fort Meyers, Fla.,-based school. Former Kansas point guard Aaron Miles, who worked as a graduate assistant on Self's staff, is a full-time assistant for Dooley.
Danny Manning's Wake Forest Demon Deacons, a consensus pick to finish 13th in the 15-member ACC, exceeded expectations by going 9-9 in the regular-season. The Deacons opened postseason play by blasting Boston College, 92-78, in the ACC tourney to extend their winning streak to four games, including one against mighty Louisville.
Even if Wake doesn't defeat Virginia Tech in the second round, no way the selection committee can deny the Deacons now. Manning, in his third season at Wake, took Tulsa to the tournament in his second season.
The Wake Forest turnaround from a 2-16 conference record a year ago speaks to Manning's coaching ability. So does the fact that John Collins, a three-star recruit from West Palm Beach, is averaging 19.1 points, 9.8 rebounds and 1.6 blocked shots in his sophomore season and is projected by draftexpress.com to go 15th in the NBA draft. Brett Ballard, who worked under Roy Williams and Self at Kansas, is one of Manning's three assistant coaches.
Tim Jankovich, who left his job as head coach at Illinois State to become coach-in-waiting at SMU under Larry Brown, is in his first season as head coach at SMU, although he went 9-0 in 2015-16 during Brown's NCAA-mandated suspension.
SMU ended its 27-4 regular season by blasting Memphis, 103-62. The Mustangs have won 23 of 24 and have set themselves up for an at-large bid if they don't win the American Athletic Conference tournament in Hartford, Conn.
Self is bound to face one of his former assistants in the NCAA tournament, maybe as soon as this year, and people will cry that the committee rigged the deck to make it happen in order to set up a story line.
Wrong. With so many connections, it's inevitable.