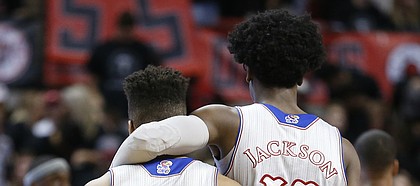 KU senior Frank Mason III and freshman Josh Jackson were two of 10 players named semifinalists for this year's James A. Naismith Award, given annually to the nation's most outstanding college basketball player.
Kansas was the only school to have two players make the list of semifinalists.
Mason leads the Big 12 in scoring with a 20.3 average and his 20.6 points per game in league play are also tops in the Big 12. A two-time national and conference player of the week from Petersburg, Virginia, Mason is the only conference player averaging 20 points or more this season. He has 17 games of 20 points or more, including four of his last five and six of his last eight contests.
A seven-time Big 12 Newcomer of the Week in 2016-17, Jackson is second on the team in scoring at 16.3 points per game, which is fifth in the Big 12. The two-time Big 12 Player of the Week from Detroit has seven double-doubles in his last 10 outings and his 11 double-doubles in 2016-17 rank tied for second in the Big 12 and has already broke the KU freshman record. Jackson's 7.2 rebounds per game are sixth in the conference and he leads KU with 50 steals and 32 blocked shots. Jackson is 19-for-37 (51.4 percent) from beyond the arc in his last 12 games.
A national voting academy will narrow the list to four finalists that will be announced Sunday, March 19, on Twitter (@NaismithTrophy).
The 49th awarding of the James A. Naismith Trophy to the most outstanding college basketball player will be presented at annual Naismith Final Four Awards Brunch on Sunday, April 2 in Scottsdale, Arizona.
2017 Naismith Trophy Semifinalists
Lonzo Ball, UCLA (Freshman, G)
Ethan Happ, Wisconsin (R-Sophomore, F)
Josh Hart, Villanova (Senior, G)
Justin Jackson, North Carolina (Junior, SF)
Josh Jackson, Kansas (Freshman, G)
Luke Kennard, Duke (Sophomore, G)
Frank Mason III, Kansas (Senior, PG)
Johnathan Motley, Baylor (Junior, F)
Caleb Swanigan, Purdue (Sophomore, F)
Nigel Williams-Goss, Gonzaga (R-Junior, G)