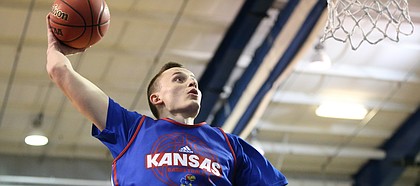 It was just a single moment in a simple drill during the first team workout of the summer, but it was as telling as anything possibly could be about the new reality for the Kansas men's basketball team.
After William & Mary graduate transfer Jack Whitman missed an uncontested, left-handed hook shot in the paint from three feet out, the frustration was evident on his face.
Down on himself for missing the easy bunny with the coaches watching closely, Whitman lunged after the bouncing ball and started to head to his place at the back of the rebounding line.
Not so fast.
Without hesitation, and with a certain amount of urgency, sophomore forward Mitch Lightfoot demanded that Whitman gather the ball and finish the play. It did not matter that Whitman had missed an easy shot. It did not matter that the layup that followed was even easier. All that mattered, at least to Lightfoot, was that his new teammate finished the play.
Moments later, on the opposite side of the basket, sophomore center Udoka Azubuike could be seen giving detailed instructions to freshman forward Billy Preston about a drill, his footwork and how to gain proper position.

Landen Lucas they are not, but Azubuike and Lightfoot are, by far, the most experienced big men on the 2017-18 Kansas basketball roster. And, at least at the outset of summer, the two returning big men are taking that role seriously.
"Oh, they will, with the bigs at least, because they are the leaders of the bigs so they'll take a leadership role," said KU coach Bill Self about Azubuike and Lightfoot's sudden status as the Jayhawks' best role models down low.
While a good chunk of their impact on the Kansas front court likely will come from the numbers they put up and the minutes they log when the season rolls around, setting the tone for Preston, Whitman and Memphis transfer Dedric Lawson, who will sit out the 2017-18 season, may be as important for the future of Kansas basketball as anything either player does this season.
Self said that was particularly true for Lightfoot, who begins with a head-start in the competition for playing time next to Azubuike with Preston and Whitman.
"Mitch may be (in the position to slide into more of a leadership role) as much as anybody else because he's a really good drill guy and guys can follow his lead," Self said. "Probably up until October guys will look to him as one of their key guys to try to watch and follow."
Lightfoot, who played limited minutes in 26 games last season as a true freshman, knows that both a golden opportunity and a potentially big season await. And he has not been shy about calling this the biggest offseason of his playing career to date.
While his performance this summer and in the months leading up to Late Night and the start of the season in November will determine how big his role will be, Lightfoot possesses a team-first mentality and gladly will do whatever is asked of him.
As for Whitman and Preston, Self seemed excited about both players following the opening day of summer workouts last week.
""He looks as good as anybody we've had in here at that four spot, physically," he said of Preston. "... He's got a lot to learn but, certainly, I'm glad we got him."
Of Whitman, he added: "I think he's bouncy. And I think he's pretty smart. He certainly doesn't have to score a lot of points for us but he can be a guy that can understand what we need to do offensively and he'll score off of other people's plays and he'll be a good ball mover. I think he can play with Udoka."