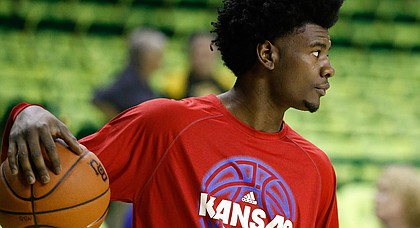 University of Kansas basketball player Josh Jackson was charged Friday with one count of criminal damage to property for allegedly damaging a car outside a Lawrence bar in December.
Jackson is being issued a summons to appear in court for criminal damage to property of less than $1,000, a misdemeanor, Douglas County District Attorney Charles Branson announced Friday.
Jackson's court appearance, an arraignment, is set for 3 p.m. April 12 in Douglas County District Court, according to court records.
Jackson shared a statement on the matter Friday afternoon in an email sent to the Journal-World through a third party.
"I am very sorry that this whole situation occurred," Jackson said in the typed statement. "I was trying to help a teammate and unfortunately the matter escalated. There were many other people involved and I have already offered to pay for any damage that I directly caused. I am anxious to resolve this and focus on school and basketball."
Jackson will continue to play with the team, KU men's basketball Coach Bill Self said Friday, in a statement. Self said he applied "the appropriate in-house discipline" immediately after and that the discipline would remain in house. Self didn't elaborate on the nature of that discipline.
"I know Josh has regrets for his actions in this incident," Self said. "He and I both know he could have exercised better judgment for this avoidable situation, but I'm pleased with how he's accepted responsibility. This does not take away from the fact that he has been a great ambassador for this university. He will learn from this incident and be better for it."
Jackson, 20, is KU's top freshman, if not overall player. The 6-foot-8-inch guard from Detroit was a 2016 McDonald's High School All American and has been named a Big 12 Newcomer of the Week six times this season, a record for first-year Jayhawks.
The Jayhawks' next game is Saturday in Austin, against the University of Texas.
Jackson's charge stems from a Dec. 9 argument that started at the Yacht Club, 530 Wisconsin St., and spilled outside.
A woman told police who arrived at the scene that the car she was driving had been damaged by "a known person and other unknown individual(s)," Branson said in a news release Friday. Investigating officers determined that the woman threw a drink on a male patron in the bar, then a friend of that patron — Jackson — followed the woman to her car at 545 Wisconsin St. and argued with her. During the argument, the woman's car was damaged in several places.
Witnesses said they saw Jackson kick the driver's door and a tail light, Branson said. The car sustained more damage than that, but witnesses at the scene "were unable to specifically identify other individual(s) that caused damage to the vehicle other than Jackson," Branson said.
Total damage to the vehicle was estimated to be $3,150, according to Branson. Damage to the door and tail light was estimated to be $1,127.
Branson explained why Jackson was not charged with felony criminal damage, which is damage exceeding $1,000.
"The state can't prove beyond a reasonable doubt that all the damage to the door and tail light were caused by Jackson due to other unidentifiable individual(s) damaging the vehicle," Branson said.
Fellow KU basketball player Lagerald Vick is among witnesses listed in the court's charging document against Jackson.
The Kansas City Star reported earlier this month that Vick and Jackson were both persons of interest in the vandalism case, citing "multiple sources." Police did not confirm at the time that either man was involved, and did not answer a question Friday about Vick's involvement.
"An affidavit has already been submitted to the DA's office and therefore the Lawrence Police Department will not be providing any additional information regarding this case," Lawrence police Sgt. Amy Rhoads said.
Cheryl Wright Kunard, assistant to the district attorney, said, in an email, that the court lists witnesses "necessary to file a case." For another person to be charged, the court would need to receive additional investigative reports that named a new suspect, she said.
Other people listed as witnesses in the court document charging Jackson include three female KU athletes. One of them is the woman who was driving the car and reported the damage, according to the corresponding Lawrence police report.
That report, obtained by the Journal-World in January, indicates the incident happened about 2 a.m. Dec. 9 and lists estimated damage to the car at $2,991.
Criminal damage to property of less than $1,000 is a class B nonperson misdemeanor, according to court documents. A class B misdemeanor conviction is punishable by a fine and/or up to six months in jail, according to the Kansas sentencing statute.
— Sports editor Tom Keegan contributed to this report.