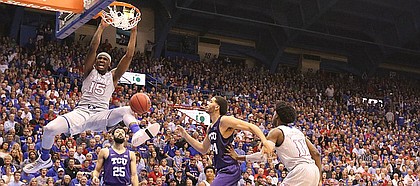 On a night when Bill Self's Kansas basketball players did what they always seem to do — win at Allen Fieldhouse and accumulate new Big 12 championship gear — an unexpected conqueror emerged from the KU bench.
He wore the same headband and No. 15 jersey as the Carlton Bragg who has struggled to stay out of Self's dog house both on and off the floor the past several months, but played less like that slumping sophomore and more like the forward many envisioned occupying a starring role on KU's 13th consecutive league title-winning team.
Four days after logging just five minutes in the Jayhawks' crucial road victory at Baylor, Bragg went from non-factor to bench stalwart in his team's 87-68 win over TCU.
The same 6-foot-10 big who registered double-figure points just once in conference play prior to Wednesday night, stepped on the floor determined to make an impact.
Photo Gallery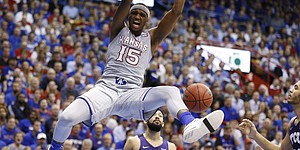 Kansas basketball v. TCU
View a gallery of images from Wednesday night's game between the Jayhawks and Horned Frogs at Allen Fieldhouse.
Bragg kept the ball high, out of the reach of the Horned Frogs trying to stop him, on two early paint touches, and put up four quick points just more than two minutes after subbing in for senior Landen Lucas. By the end of his 22-minute night (the most time he'd spent off the bench since Nov. 21), Bragg tied his career high with 15 points, delivered two emphatic put-back jams on the offensive glass, totaled seven rebounds and swatted away three shots.
Given that Bragg's stat lines of late have resembled those of a 12th man, rather than a trusted member of the rotation, even Self had to be a little surprised, right?
"No. We haven't been going into the game thinking we can count on 15 and seven obviously, but he's a better player than what he's been able to show so far," the Kansas coach countered, "so hopefully this will propel him to some bigger games down the stretch."
Related document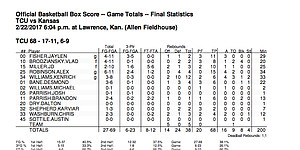 Box score: Kansas 87, TCU 68 ( .PDF )
With the smile that he flashed so often during his freshman season a year ago back on his face following the victory, Bragg said his teammates shared a similar message with him after his most impressive performance in what had to seem like years for the Cleveland forward.
"Just take another step. Just build on it," Bragg shared of the words of encouragement he received in the locker room, after the Jayhawks added yet another Big 12 trophy to their case. "You can't rest on it. Don't take things for granted."
Star KU freshman Josh Jackson thought Bragg played a critical role in the win.
"In my opinion," Jackson said, "best game of the year so far, and hopefully we get to see more."
Bragg has been through a lot this season, including facing charges for battery (dropped a few days later) and possession of drug paraphernalia (granted a diversion), prompting his coach to suspend him a game in December and three more in late January.
In the 14 games that followed his first off-court issues and suspension, Bragg reached 10 points just once. He said his out-of-nowhere performance versus TCU (17-11 overall, 6-9 Big 12) came with the behind-the-scenes help of Lucas, a senior. Bragg added he stayed patient throughout his funk by employing patience. What's more he didn't get too down on himself — even if he appeared visibly frustrated during games upon blowing an easy shot or missing an assignment. Bragg said senior point guard Frank Mason III, too, kept him positive.
"His leadership is unreal," the sophomore said of the veteran. "He just leads the team and we just follow him. It's been insane throughout this whole year."
Bragg said he entered the night wanting to influence the game with energy and by making "the little plays." His coach wasn't certain what fueled the dramatic turnaround exactly, but said his backup big man looked more athletic than he had in recent showings.
"He didn't finish a couple of baskets — he and Landen both in the first half, getting shots blocked underneath the backboard," Self pointed out after Bragg finished 7-for-10 from the floor. "But I thought he looked a lot more bouncy and athletic. And his hands looked really good. He caught some hard passes. I thought he played extremely well — and we needed him tonight."
They'll need him again on many nights to come if Kansas wants to add Final Four T-shirts and hats to their ever-growing wardrobe. The trick for Bragg now will be finding ways to duplicate the impact he made in the weeks ahead, as Kansas tries to win games in March in arenas not packed with fans who love the Jayhawks.
Now that the relief of securing the Big 12 title is out of the way for the whole team, Bragg took some personal comfort in displaying the form so many figured months ago would be his standard.
"I got a little swagger back, getting my rhythm going," Bragg said. "But I've just got to keep building on it. Take it step by step."
— See what people were saying about the game during KUsports.com's live coverage.
---
More news and notes from Kansas vs. TCU
---