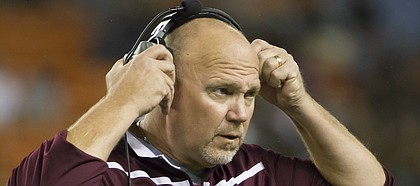 Each college football bowl season has its fair share of feel-good moments. And Lawrence native John Mumford is looking forward to being a part of one when New Mexico State takes on Utah State at 4:30 p.m. Friday in the NOVA Home Loans Arizona Bowl on the CBS Sports Network.
Mumford — who is wrapping up his first season as NMSU's defensive line coach — has had some very memorable moments in his 36-year coaching career, and this one ranks right up there with the best of them. Mumford's defensive line played a key role in snapping the Aggies' 57-year streak without a bowl appearance, which had been the longest drought in the nation.
"It's really special. New Mexico State has struggled and, quite honestly, a couple of times been on the brink of extinction as far as their football program goes," Mumford said in a phone interview on Wednesday afternoon. "Doug Martin got the job four or five years ago and he had been an assistant there previous to that and saw the potential of it. He got in here and had to get some things collected as far as the culture — particularly the academic culture — and then the facilities needed to be upgraded, which he got done. When that happened, they started getting better players and put together this season."
New Mexico State won its last two games to become bowl-eligible at 6-6. The Aggies become bowl-eligible for the first time since 2002, when they rallied past South Alabama in the final minute of their regular season finale for a 22-17 victory.
"It's been very rewarding as a coach to see these kids grow — particularly this senior class and everything they've gone through to help build it. The town of Las Cruces has always been behind the program, but they had been disappointed," Mumford said. "After the game, the stands emptied on to the field and it was a lot of emotion — not only from the elation of the players and the coaches, but just from the supporters of Aggie football and the people of Las Cruces. It's been very rewarding. It's not done yet. We've got to the bowl game. We've got to go win it now."
Prior to joining Martin's staff at NMSU, Mumford took a brief break from coaching at the college level. Mumford spent one season as the head coach at St. John Paul II High School in Huntsville, Ala., after previously serving as the interim head coach at Louisiana-Monroe. Mumford was the defensive line coach at Louisiana-Monroe before taking over for Todd Berry for the final three games of the 2015 season. The Warhawks went 1-2 under Mumford, with the victory coming in the season finale over NMSU.
Mumford has made the most of the relationships he's built in coaching, and said that his connections with two people played a big role in landing a job at NMSU. The Lawrence native got to know Martin during his stint at ULM and was still good friends with Berry following his midseason firing. When Martin was in need of a defensive line coach after last season, Mumford was also getting the itch to return to the college ranks. It didn't take long for the ball to get rolling to make that happen for Mumford.
"I saw he (Martin) had some movement on his staff, so I just sent him my resume. His D-line coach left for the Canadian Football League," Mumford said. "He and my coach at Monroe, Todd Berry, who is now the head of the AFCA (American Football Coaches Association), they worked together for years at East Carolina, so that was the connection. I enjoyed my year at that high school, but I really missed working with the older guys. When he called, I think he got about two words out and I said, 'When do you want me?' I was fired up to get back into the college game."
While Mumford has highly motivated to help Berry turn the NMSU program around, he had his work cut out for him. The Aggies only recorded 11 sacks as a team in 2016, but bolted out of the blocks with seven in a 37-31 loss to Arizona State in their 2017 season opener. However, the Aggies only recorded five sacks over their next five games.
Once the chemistry started to develop on the defensive front, though, success soon followed in the second half of the season. The Aggies tallied at least four sacks in four of their final five regular season games — including a school record 11 takedowns of the quarterback in a 17-10 win over Idaho.
"Seeing guys up front and the linebackers being that confident and seeing the lights come on when we put pressure on people and everything, that was a lot of fun," Mumford said.
While Mumford was a tight end and a long snapper during his playing days at Pitt State, his coaching career started on the defensive side of the ball and has remained there for nearly four decades. The 1975 Lawrence High alumnus spent one season as a defensive line coach at Topeka High in 1979 before returning to his hometown to coach collegiately at the University of Kansas. Mumford spent two years as a graduate assistant on Don Fambrough's staff, and still looks back on his time at Kansas some 35 years later.
"I learned a lot about the defensive football and, more importantly, about how to prepare with the film study, the breakdowns, the tendencies and how to get that across to the kids for them to use. That's where I kind of learned the craft," Mumford said. "I learned from some really, really good people at that time. I wouldn't have traded those two years for anything. That was really important in my development as a coach."
The attention to detail that Mumford picked up from Fambrough — who was a U.S. Army veteran after serving in World War II — came in handy as he moved on up in the coaching ranks. Mumford's coaching career took off at South Dakota (1982-1988) and Southeast Missouri State (1989-1999) before he became an assistant coach at Army. The Lawrence High and Pitt State graduate arrived at West Point in 2000 to be the defensive line coach under Berry, who was taking over the helm after a four-year stint at Illinois State.
The wins didn't mount as much as Mumford would have hoped, and he eventually was named the interim head coach in 2003 during a winless campaign. Mumford still remained at Army as a defensive coordinator and defensive ends coach for the next 10 seasons.
"The experience at Army was very rewarding. It was tough in the sense of we didn't win enough games in those 14 years because the place is all about excellence," Mumford said. "The people you deal with are high-intellect, high-speed people. I grew out of that experience. I'm a little regretful that we didn't have more success when I was there.
"Getting back to civilian schools at Monroe and New Mexico, I've really enjoyed working those kids. I think particularly at the last two stops, we've gotten better. That's why I do it, is to make the kids better and see them be successful. I get a kick out of their success. That's the only reason I do this. Certainly this year has been fun. The great news is that we've got a lot of these guys on the defensive front returning, so I'm really excited about that."
Whether or not the Aggies were going to play in a bowl game, Mumford had a fun week planned out. Mumford would have returned to Lawrence to spend Christmas — which also happened to be his birthday — with his family, but he's happy to still be on the sidelines trying to make more history with the NMSU program.
"Just being a part of getting this program turned around has been very rewarding and just to see all of the people that have been waiting for it for 57 years and see the reaction they've had has been a lot of fun. Like I said, the bowl experience is great," Mumford said. "We're staying in Tucson at a five-star resort. It's pretty nice, but you're not getting anything out of that unless you win the football game. That's been our main focus."