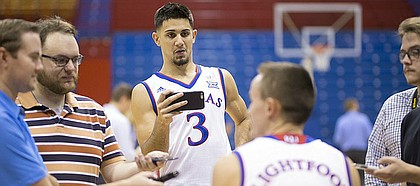 While going through the transfer process, having family members to reach out to wasn't an issue for Kansas redshirt sophomore Sam Cunliffe after moving on from Arizona State last winter.
The Seattle, Wash., native and Arizona State transfer has remained close with his family — especially his eight sisters — despite no longer living in Pac-12 country. What has made life in Lawrence easier for Cunliffe over the past year, though, is that he's continued to build a friendship with someone whom he views as a brother.
When Cunliffe was granted his release from Arizona State, the 6-foot-6 guard was contacted by Gilbert, Ariz., native and Kansas sophomore Mitch Lightfoot about becoming a Jayhawk. Cunliffe and Lightfoot's paths first crossed at the 2015 Under Armour All-American camp, and they've been best buds ever since.
"That's where I met him. He was on my team there," said Cunliffe of Lightfoot. "He was an Arizona guy and I committed to Arizona State. When I was transferring, he hit me up."
In his one semester at Arizona State, Cunliffe averaged 9.5 points and 4.5 rebounds while starting 10 games for the Sun Devils. Cunliffe has come off the bench in his three games as a Jayhawk, averaging just more than 10 minutes per contest. His best showing came against Omaha, where he made 4 of his 9 shots for nine points and added two rebounds, two assists and a steal.
With potential freshmen additions Silvio De Sousa and Billy Preston possibly vying for major minutes as Big 12 play approaches with Friday's 8 p.m. road tilt at Texas, playing time could become harder to come by for Cunliffe and Lightfoot. Even before the season started, though, Lightfoot said at KU men's basketball media day that they both have similar mindsets when it comes to how they can best help the Jayhawks.
"I think the biggest thing with Sam is knowing that the intangibles are super valuable at this level," Lightfoot said. "A couple of extra possessions is going to mean six more points and that's the difference in a lot of games. I think me and him just going back and forth after practice talking about how those intangibles is just so important at this level."
Along with bonding over basketball, Cunliffe and Lightfoot have become even closer off the court, too.
"I've been friends with him since I was a junior in high school. He's my roommate, so a lot of joking, a lot of hanging out," Cunliffe said. "He's my guy, though. We hang out and talk about just about anything. He's been my closest friend here, for sure, but sometimes you couldn't tell because there is a lot of joking and a lot of fun stuff going on."
While Lightfoot has helped Cunliffe feel at home this past year by giving him another easy going personality to confide in, the transfer process was something the former Sun Devil did not take lightly.
One of Sam's sisters was able to give him some guidance from being in a similar situation as a college freshman. Hannah Cunliffe started her collegiate track and field career at Oklahoma before transferring to Oregon following the first outdoor meet of her freshman campaign in the spring of 2015.

Hannah's speed has turned her into a star on the track at Oregon. The Oregon sprinter was named as the 2017 USTFCCCA Women's Indoor Track Athlete of the Year after setting an NCAA record in the 60-meter dash, and was also a part of the NCAA record-setting 4x100-and 4x200-meter relay teams. Hannah has experienced her fair share of heartbreak with the Ducks as well, though, with the last two outdoor seasons being cut short because of a hamstring injury.
According to Sam, the ups and downs in his, Hannah's and all of his siblings' athletic careers have helped keep them close.
"I love my sisters, man. They're my best friends," Cunliffe said. "I talk to them all day — most of the time through Snapchat. It's been good. I've just been talking to them, being in their lives and trying to be a good example. I try to be there for them if anybody messes up. It's been good."
While Sam continues to keep up with his sisters' accomplishments, he's eager for the chance to start making some memories of his own with the 14th-ranked Jayhawks (10-2) now that he's no longer confined to the bench.
"I really do love it here. Most of the time, guys go to college and have really big dreams and want to play in the NBA and get out early and all that," Cunliffe said. "I love where I'm at. As long as I can be here, I want to be here. It's a good place for me."