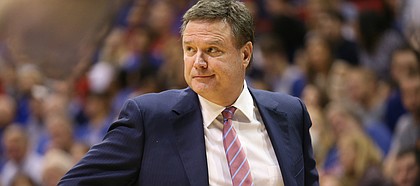 Kansas basketball coach Bill Self on Thursday offered updates on three Jayhawks who have yet to play a minute for the team this season.
He followed them up with an explanation for why constant questions about Sam Cunliffe, Billy Preston and Silvio De Sousa were worth addressing week after week, as all three continue to strive to get back on the court.
"We could become a very, very deep team in a short amount of time," Self said. "Right now, we just don't know what our team is or what it will be."
What is known is that Cunliffe will be eligible on Saturday when the 13th-ranked Jayhawks take on Nebraska at 7 p.m., at Pinnacle Bank Arena, in Lincoln, Neb.
While KU fans and Cunliffe's teammates have been eagerly anticipating his KU debut, Self cautioned against expecting too much too soon from the Arizona State transfer.
"It's going to be beneficial, there's no question," Self said of adding Cunliffe to the rotation. "But it's not going to change a ton how we play or our talent level right off the bat. I love Sam and I want him to contribute, but anybody that believes that he could step right in and be more productive than the five guards we have, I think that would be a little bit tough for him. In large part because he's going to go through some stuff to get comfortable."
Freshman forward Billy Preston has been the poster boy for that last line, although none of Preston's work has come on the floor.
Held out of all nine KU games thus far while the university continues to sort out a compliance issue involving a car Preston was driving during a single-vehicle, non-injury accident in mid-November, Self said Thursday he remained "optimistic," that Preston still could help the team this season, perhaps sooner rather than later.
Self praised the work KU has done to get Preston back on the court, but added that at least some of the former McDonald's All-American's future was out of KU's hands, because the NCAA still had to see eye to eye with what KU's investigation concluded.
Self said KU had not yet turned the case over to the NCAA, which will ultimately have the final say.
"Hopefully, whatever information is given to the deciding parties, it will be a quick turnaround," Self said.
And then there's De Sousa, the Class of 2018 forward who signed with KU earlier this year and has been on a mission to graduate early from IMG Academy and report to KU in time for the second semester.
De Sousa said earlier this week he expected to get his SAT test score back on Friday. The results of that test will loom large in the 6-foot-9 Angola native's quest to come to Kansas this season.
But even if the score is good enough to make him academically eligible, Self said there were still other hurdles that had to be cleared before De Sousa could suit up for the Jayhawks.
"Everybody (has to be approved by the NCAA Clearinghouse)," Self said. "And that process has already started. The thing with Silvio that's unique is we're dealing with Angola. And our ability to either speak French or Portuguese in a way (to get) additional information to help him has been somewhat limited. So we think he's in pretty good shape, depending on the test score, but there still have to be some things that are done through his home country that are still incomplete.
"We've been working on this for a while and we've gotten down to the 11th hour, obviously. If a youngster could be eligible, we want him here sooner than later. He could be eligible but not be cleared until Jan. 10. He could be eligible and maybe be cleared before Christmas. So that's what we're working on. He could also not make it (and) he would either not be eligible for competition or he could stay at IMG. So there's questions, but the answers will probably take place, I would say, in the next week to 10 days."
What those answers could mean for the 2017-18 Jayhawks is the biggest reason the effort and waiting in all three instances has been worth it.
And if in the next couple of weeks, KU's paper-thin roster can add Cunliffe, who is essentially the team's sixth guard, and two physically imposing, athletically gifted forwards in Preston and De Sousa, the outlook for the rest of the season becomes much different than it stands today, with the 13th-ranked Jayhawks (7-2) battling through a two-game losing skid.
"I've always thought the bench is a heck of a motivator, not from a negative standpoint," said Self, calling the current roster "a hard team to coach" because of the way the roster currently is constructed. "Guys want to be out there and sometimes right now we're in situations where we don't have the answers to put other guys out there because we're so thin."
In the past, when Landen Lucas was struggling or Cliff Alexander was dogging it, Self could turn to Hunter Mickelson sitting on the bench. Same thing with Kelly Oubre Jr. and Wayne Selden Jr., or Brannen Greene or Frank Mason III, or Devonte' Graham.
"Whoever it would be," Self explained, singing the praises of bench depth. ""If a guy's not doing it right right now, I hate to say this, but what you do is you yell at him from the sideline to say, 'Hey, do it better.' And I don't think that's the best way to coach."