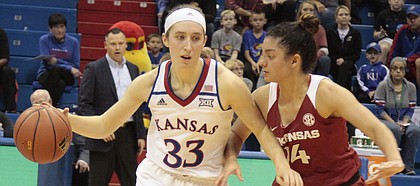 Kansas junior guard Kylee Kopatich wrote another chapter in what has been a breakout season for the Olathe native, as she scored 18 of her 26 points in the second half to lift the Jayhawks to a 71-60 victory over Arkansas on Sunday in the Big 12/SEC Challenge at Allen Fieldhouse.
The new career-high in points wasn't what Kopatich was the most excited about, though, after the Jayhawks improved to 7-0 on the season — which is the best start for Kansas since the 2012-13 campaign. Kopatich acknowledged that she went into attack mode in the second half as the Razorbacks tried to claw back in it, but made it clear that it was a team-win.
Junior transfer Christalah Lyons and redshirt sophomore Tyler Johnson joined Kopatich in double figures with 15 and 10 points, respectively. While Lyons felt she should have had a better night offensively after making six of her 17 shots, Kopatich raved about her effort on the defensive end. Lyons drew charges on the dynamic Arkansas backcourt combo of Malica Monk and Devin Cosper in the first four minutes of the game to set the tone for the Jayhawks.
Photo Gallery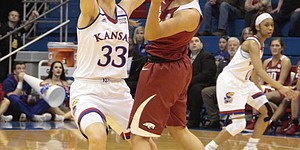 KU women vs. Arkansas
Kansas junior guard Kylee Kopatich scored a career-high 26 points to guide the Jayhawks to a 71-60 win over Arkansas on Sunday in the Big 12/SEC Challenge at Allen Fieldhouse.
"Oh gosh, so hype. Oh man, that's a huge thing for us," Kopatich said. "If we get a charge, we all go crazy. And to have them against their best players, too, that was just great to start the game."
Monk and Cosper were each averaging just more than 18 points per game entering Sunday's contest, but were held in check in the first half. Monk picked up two fouls in the first two minutes and 12 seconds, and was scoreless until the 1:57 mark of the second quarter.
"They've got two really elite scorers in Monk and Cosper. We felt like it was going to be very difficult to limit their shot attempts, but we were hopeful that we could just make them make contested shots," KU coach Brandon Schneider said. "Monk had helped us in that she was in a little bit of foul trouble in the first half, and Devin probably didn't have the shooting night that she wanted to (5-of-23 from the field, 1-for-11 from 3-point range). But I'm hopeful that that had a little bit to do with us."
The Jayhawks held the Razorbacks to 27.3 percent from the floor and just 8.3 percent from 3-point range in the first half to take a 30-22 lead going into the break. The offense for the Razorbacks started coming around in the third quarter, though, as they shot 53.3 percent from the field. However, Kopatich and the Jayhawks were able to keep pace.
Kopatich knocked down both of her 3-pointers early in the third quarter to help resurrect a Kansas offense that was plagued by 12 turnovers in the first half — seven of which were committed by Brianna Osorio. The College of Southern Idaho transfer had to play more at point guard than Schneider would have liked in the first half due to Lyons being in foul trouble, but Osorio and the Jayhawks slowed things down in the second half and only turned it over three times after the break.
Along with Kopatich scoring at will, Schneider's squad was able to get Johnson (10 points, five rebounds) and freshman center Bailey Helgren (four points, three rebounds) involved down low.
"Bailey and Tyler just muscled their way through, man," Kopatich said with a huge smile. "It was like no one was on them."
The win over Arkansas (5-3) meant a little bit more to the Jayhawks than their previous six victories, as it was the first Power Five conference team they've faced. The Jayhawks still have four more nonconference tests before they begin Big 12 play on Dec. 28 at Iowa State, but the conference season has definitely been on the minds of the Kansas players of late.
"Each game that we've won, we've gained a little more confidence. And coach even said in the locker room that this team has a style like Iowa State and they're defensive." Kopatich said. "So our new players are kind of getting the feel of what our league is going to look like."
Johnson echoed Kopatich's comments, and had high praise for Monk — who scored 17 of her 21 points in the second half.
"Props to her for giving us kind of a view of what players in the Big 12 are going to look like," Johnson said. "Especially for the freshmen seeing that and for the people who are new, just seeing that this is the caliber of what the Big 12 is going to look like and that athleticism. So yeah, props to her."
While the 7-0 start does mean something to Schneider, as well, he's been more encouraged by the strides his team has been making on and off the court rather than the Jayhawks' record.
"To me, obviously the record matters, but what's a lot more important to me is what is our culture like? What is our team chemistry like? Are we a group that gets better every day? That's what matters to me. I think when you approach it with that mind-set that, oftentimes, you get the result you're looking for."
The Jayhawks will try to keep rolling when they play host to Nebraska (5-3) at 7 p.m. Wednesday at Allen Fieldhouse.