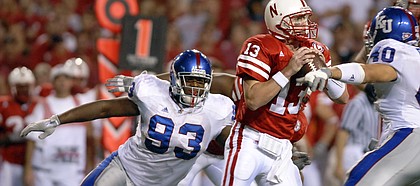 The challenge for any Hall of Fame lies in including all who deserve it without cheapening the standards.
Cornerback Aqib Talib and left tackle Anthony Collins, a pair of first-team All-Americans in 2007, both earned automatic KU Ring of Honor inclusion by virtue of first-team All-American status. They and former coach Mark Mangino deserved the honor of induction into the Kansas Athletics Hall of Fame, which was announced Tuesday.
More than a week ago, a dozen banners of recent KU greats went up in arches on the outside wall of Memorial Stadium: Dorance Armstrong, Dezmon Briscoe, Anthony Collins, Charles Gordon, Chris Harris, Ben Heeney, Kerry Meier, Todd Reesing, Nick Reid, JaCorey Shepherd, Darrell Stuckey and Aqib Talib.
One name stands out among all others as an egregious omission: James McClinton.
A second-team All-American in 2007, McClinton was a beast of a defensive tackle, so explosive, so quick, so strong, so consistently enthusiastic.
Reached Tuesday evening at his home in Austin, Texas, McClinton said he had sent an affirmative RSVP to attend the honoring of the Orange Bowl team at the Sept. 2 season-opener against Southeast Missouri State, but is now uncertain because he is about to start a new job at a high school, supervising in-school suspension and helping to coach the football team.
"I'm trying to figure out if I'll be able to come in," McClinton said.
He said he was happy to hear news of Collins, Talib and coach Mark Mangino going into the KU Athletics Hall of Fame. He said he had not heard about the banners going up on the outside of the stadium.
"That's OK," McClinton said of his omission. "There were a lot of great players on that team and a lot of great ones after us as well."
McClinton wanted to make sure Todd Reesing had a banner.
"Definitely have to put the quarterback up there, no question," McClinton said. "Reesing was fun to watch. Running around the pocket, running around, running around, all the sudden he throws the ball 50 yards. Touchdown!"
Mangino, who expressed disappointment that McClinton has not yet received a banner, remembered a standout Texas A&M; offensive lineman being asked to name the toughest player in the Big 12 to block and quickly answered, "James McClinton, without a doubt."
"James was an All-American on that 2007 team," Mangino said. "I don't want anyone to forget about James' contributions. I can assure you, his teammates haven't forgotten. The guy was a machine. He was a big part of what we did defensively."
Mangino said that with Talib and McClinton on the field, "the other nine guys didn't want to make a mistake because they felt peer pressure from those two, so everybody was going full speed all the time in practice."
This is an easy fix. Make a banner and hang it in an arch before the opening game so that if McClinton can make it back to town, he'll get to see what he deserves to see, what he has earned. He'll know that more than his coach and teammates haven't forgotten what an amazing football player he was for the university from which he is so proud to call himself a graduate.