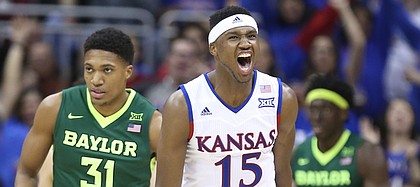 Kansas University basketball players Carlton Bragg Jr., Devonté Graham and Frank Mason III are working as college counselors at this weekend's adidas Nations camp in Los Angeles.
The three will be playing in counselors games as part of Team Mavericks. Others on Team Mavs: Evan Payne, Long Beach State; Jeremy Senglin, Weber State; Naz Mitrou-Long, Iowa State; Tai Webster, Nebraska; Justin Tuoyo, Chattanooga and Kelan Martin, Butler.
In all, 80 of the top high school players from around the world will be competing at adidas Nations. The players will be wearing four new brands of adidas shoes: the Crazy Explosive, Crazylight 2016, D Rose 7 and instant classic D Lillard 2.
Old, notable stat: Draftexpress.com included former KU guard Ben McLemore of the Sacramento Kings in its fun facts regarding the NBA summer league.
McLemore, the No. 7 overall pick in the 2013 Draft, did not tally a single assist in over 150 minutes during the 2013 Las Vegas Summer League.
Svi not listed: KU junior Svi Mykhailiuk, who led Ukraine in scoring (14.9 ppg) in seven games at the recent FIBA Under 20 world championships, was not listed as a Top Ten performer in the tournament as judged by draftexpress.com.
However, the website does list Mykhailiuk as a first-round 2017 NBA draft pick. He's projected to be selected No. 27 overall. KU's Josh Jackson is projected to be taken No. 4 overall at this time.
Lauri Markkanen, the 7-foot son of former KU forward Pekka Markkanen, was named top player at the Under 20 worlds by draftexpress.com. He averaged 24.9 points and 8.6 rebounds a game for Finland.
"Now standing 7-feet tall, and still only 19 years old, Markkanen already has serious stretch-4 capabilities, looking at ease shooting the ball from deep, coming off screens, out of pick and pop situations, and off the dribble," draftexpress.com writes of the Arizona freshman. "Markkanen is very mobile for a 7-footer, and has a quick first step that he uses to attack closeouts on the perimeter. He has some straight line drive ball handling abilities, and although he has just average length, he uses his size efficiently to create space and finish over smaller defenders who have a hard time contesting his release."