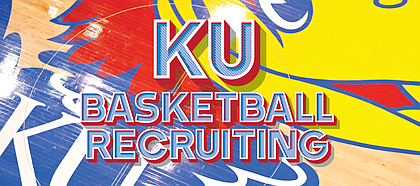 Trae Young, a 6-foot-1, 170-pound senior guard from Norman (Okla.) North High who is ranked No. 14 in the recruiting Class of 2017 by Rivals.com, listed Kansas University among his six finalists Wednesday night on Twitter.
Others on the list: Kentucky, Washington, Oklahoma, Oklahoma State and Texas Tech.
Young tells Rivals.com he plans to visit all six schools, likely announcing this winter.
Young's dad, Rayford, was a standout guard at Texas Tech. Trae's AAU teammate and good buddy, Michael Porter Jr., recently committed to Washington after Huskies coach Lorenzo Romar (Porter's godfather) hired Porter's dad as assistant coach.
Of KU, Young told Rivals: "To have the chance to play somewhere like Allen Fieldhouse is a great opportunity. Coach (Bill) Self uses and develops guards really well and gets them ready for the league."
Of OU, he said: "Coach (Lon) Kruger and I have a great relationship and have continued to build on it these past two years. And I live in Norman, so playing close to home would be great."
Of Kentucky, he said: "I love the way coach Cal (John Calipari) goes about things. I really like that it's about business and he puts the team in a spot to compete for a championship each year."
And of Washington, he said: "I've developed a great relationship with coach Romar and really got a chance to talk to Markelle Fultz about why he committed there and also continuing to play with Mike would be great too since we already know each other so well."
Rivals.com's story by Eric Bossi and Krysten Peek is available at http://rvls.co/2a1aay6
Chaundee Brown has KU on list: Chaundee Brown, a 6-5, 190-pound senior combo guard from First Academy in Orlando, Fla., who is ranked No. 64 in the recruiting Class of 2017 by Rivals.com, recently received scholarship offers from KU and Indiana, according to Zagsblog.com.
He's also considering Georgia Tech, Xavier, Maryland, Memphis, Central Florida, Texas Tech, LSU, Florida, Wake Forest, Southern California, Georgia and UConn.
"They (KU coaches) are saying that I could step in and play because Frank Mason is leaving," Brown told Zagsblog.com. "I don't want to go and red-shirt somewhere or sit or anything like that, I want to play right away."
He averaged 22 points and six assists at the recent Nike Peach Jam.
KU looks at Christian Brown: Christian Brown, a 6-6 sophomore forward from A.C. Flora High in Columbia, S.C., has been scouted heavily by KU this summer, Zagsblog reports. He has received offers from Auburn, Clemson, Georgia Tech, Wake Forest, Florida State, Oklahoma State, Georgia, Tennessee and others.
"I'm working on my shot a lot," Brown told Zagsblog. "I'm gaining confidence by crashing the boards and breaking down defenders. My game is slashing, so I'm working on getting easy putbacks down low as well."
Troy Brown to visit again: Troy Brown, a 6-6 senior shooting guard from Las Vegas Centennial High who is ranked No. 10 in the Class of 2017 by Rivals.com, will be a return visitor to Late Night in the Phog, he tells Jayhawkslant.com.
Brown's sister, Jada, enters her senior year on KU's women's team. He is considering KU, Arizona, Arizona State, California, Duke, Georgetown, Louisville, N.C. State, Ohio State, Oregon, Texas, Texas A&M;, Texas Tech, UCLA, UNLV, USC, Utah and others.