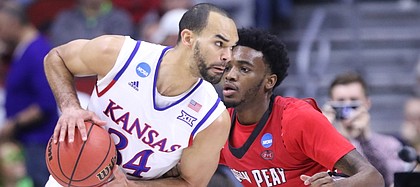 Kansas University senior basketball guard Tyler Self and recent KU graduates Perry Ellis and Evan Manning have been named to the 2015-16 National Association of Basketball Coaches Honors Court, the NABC announced Tuesday.
The NABC Honors Court annually "recognizes the talents and gifts that these men possess off the court and the hard work they exhibit in the classroom."
Ellis, a two-time Big 12 Basketball Scholar-Athlete of the Year, recently completed a season in the NBA Summer League with the Dallas Mavericks. It has not yet been announced whether he will be invited to veterans camp this fall. Manning this summer started his career in athletic administration as an intern at ProCamps Worldwide. Self will work toward a postgraduate degree as he completes his career for the Jayhawks this season.
To be named a 2015-16 honors court member, an athlete must have been a junior or senior with a cumulative grade-point average (GPA) of 3.2 or higher.
Ellis meet, greet: KU's Ellis will hold a meet and greet with fans from noon to 1 p.m. Saturday at the Hy-Vee at 3504 Clinton Parkway in Lawrence.
Withey engaged: Former KU center Jeff Withey's engagement to 2014 Playboy Playmate of the Year, Kennedy Summers, was the lead story on celebrity Website TMZ.com on Tuesday.
In June, Summers made headlines by posting a message on Instagram saying she caught him allegedly cheating on her. It turned out to be a misunderstanding and Withey proposed marriage on Monday. She accepted.
"Through thick and thin, you're my best friend @misskennedys I love you. Can't wait to spend my life with you. #engaged," Withey wrote on his Instagram account.
No done deal: Bol Bol, a 6-11 junior from Roeland Park Bishop Miege, who is ranked No. 13 in the recruiting Class of 2018 by Rivals.com, took to Twitter on Tuesday night to dispel whispers he's heard on the summer AAU circuit.
"Not sure why everyone thinks I'm going to Kansas? My recruitment is WIDE open!" Bol, the son of former NBA player Manute Bol, wrote.