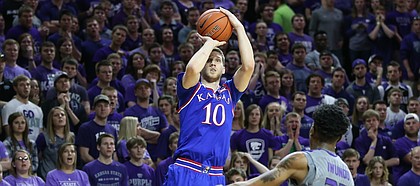 Kansas University junior guard Sviatoslav Mykhailiuk scored 21 points off 7-of-14 shooting in Ukraine's 105-103 loss to Czech Republic in the final consolation game of the FIBA Under 20 world championships on Sunday in Finland.
The 6-foot-8 Mykhailiuk hit one of six three-pointers, six of six free throws and also grabbed five rebounds with three assists against three turnovers and one steal in 18 minutes.
Mykhailiuk led his squad in scoring at 14.9 points per game in seven games.
He hit 36.8 percent of his floor shots — 47.2 percent from two and 19 percent from three. He made 85.7 percent of his free throws and also grabbed 5.6 rebounds a game with 2.7 assists and 4.7 turnovers with 2.1 steals per contest.
Ukraine placed eighth of 16 teams overall.
Young to clip list soon: Trae Young, a 6-foot-1 senior point guard from Norman (Okla.) North High who is ranked No. 14 in the recruiting Class of 2017 by Rivals.com, tells the Oklahoman he will soon announce his final list of schools.
He has a list of KU, Oklahoma, Oklahoma State, Kentucky, Texas, Texas Tech and Washington. His dad, Rayford, was a standout guard at Texas Tech. One of his best buddies, Mokan Elite AAU teammate Michael Porter, the No. 2-rated player in the class, recently committed to Washington, where his dad accepted an assistant coaching job on Lorenzo Romar's staff.
Young and Porter this week helped Team USA to a gold medal at the FIBA Americas Under 18 championship.
Preston down to four: Billy Preston, a 6-9 senior guard from Oak Hill Academy in Mouth of Wilson, Va., tells Rivals.com he has narrowed his list of schools to four: KU, Arizona, USC and Maryland. He's ranked No. 8 in the Class of 2017.