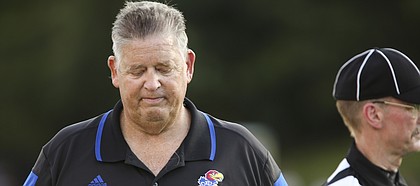 Piscataway, N.J. — Saturday was supposed to be a triumphant homecoming for Charlie Weis, who 26 years ago led Franklin High to a New Jersey state championship.
The newspapers were going to be filled with stories about how the old NFL quarterback guru had done it again, showing up Notre Dame, which had kicked him to the curb with his pockets stuffed with millions and millions of dead presidents.
The stories would detail how he showed Dayne Crist and then Jake Heaps how to run pro-style offenses and turned around their careers, sending them along to the NFL. Massive offensive linemen, carrying similar weights to NFL blockers, would help the pocket passers show that after all these innovations in the college game, old-fashioned football remains the best path to success.
Five-star quarterback recruits would be tripping over each other trying to get to Lawrence to learn under the master. And Charlie Weis Jr. would be in his first-year as the youngest Div. I offensive coordinator in the nation.
More than a quarter-century and four Super Bowl rings later, Weis, a native of Trenton, was going to enjoy this trip to the state university of New Jersey.
Well, it didn't quite work out that way. Not even halfway into his five-year, $12.5 million contract, Weis was fired by the man who hired him, Kansas University athletic director Sheahon Zenger.
Just 33 scholarship players remain from Weis' three recruiting classes. Left tackle Jordan Shelley-Smith, tight ends Ben Johnson and Kent Taylor, wide receiver Tre' Parmalee and defensive back Tevin Shaw have been the most productive of his remaining recruits.
The question many had when Zenger made the hire — if Weis couldn't win consistently at Notre Dame, a prestigious program with so many recruiting advantages, why would anybody think he would succeed at such an underdog football program? — remains every bit as valid today.
Weis inherited from Turner Gill a decent number of fast skill players, no long-term offensive-line prospects and a whole slew of academic and discipline problems. That didn't help, but in the end what undermined him most were poor talent-evaluation skills, particularly at quarterback, and a quick-fix recruiting approach packed with graduate and junior-college transfers. Showing humility few knew he had, Weis admitted midway through his second season to putting his team at a decided schematic disadvantage. He said the spread offense was the way to go after all.
Now it's on David Beaty — who is in danger of making some of the same mistakes if he continues to take graduate transfers — to put an end to an extremely embarrassing road losing streak that stands at 33 games (including three losses to Missouri at Arrowhead Stadium).
Beaty will try not to become the fifth coach to add his name to the streak that started when the current true freshmen on KU's roster were in eighth grade. Mark Mangino (0-5), Turner Gill (0-11), Weis (0-12) and current defensive coordinator and former interim head coach Clint Bowen (0-5) all experienced nothing but quiet rides home.
A dozen of the road losses on this endless streak came in Beaty's home state of Texas, one of a dozen states that are part of the 33-game streak. He'll get plenty of chances to coach there.
Look beyond the money Weis continues to earn, and you can find a sadness to him not making it far enough to have the chance to coach in his home state. Oh, well, at least he can take pride in his son getting his coaching career launched of his own merit. Charlie Jr. has an entry-level job in Nick Saban's Alabama football program. Charlie Sr. is retired and living near Notre Dame and through 2016 will be paid more than three times as much per year as his successor. Weis is not to be ridiculed for that. He and Zenger agreed to those terms, and nobody was armed at the negotiations.