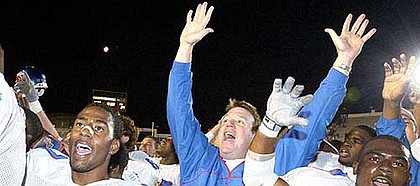 After 35 years in the coaching ranks, including a five-year stint at the helm of Kansas University's football program from 1997-2001, Terry Allen is not calling plays from the sidelines this fall.
Allen's contract at Missouri State, where he was the head coach from 2006-2014, was not renewed after the end of last season, but football is still a large part of his life in his new capacity.
The former Kansas coach has returned to the Big 12 as a consultant and serves as a liaison between the conference's football coaches and officials.
"Since the season has started, the first weekend I went down to the command center with Walt Anderson, who is the coordinator of Big 12 officials, and sat and watched every game with him. Last weekend, I was actually at Iowa/Iowa State and sat in the replay booth," Allen said. "It's a good thing. It's an opportunity for the officials to get a coaches' perspective on things and also for me as a coach to relay it to the coaches as far as what officials actually go through in their training."
Football in the family
One of the main benefits that Allen has with consulting for the Big 12 as opposed to coaching is that he has more time to spend with his family. Allen attends camps and clinics for Big 12 officials in the spring and summer and will be traveling on Saturdays to select games within the conference, but he now has time to watch his children play sports.
Allen has been able to watch his sons Chase and Alex play football at Nixa High and attend a few of his daughter Angie's collegiate rowing competitions. She is a sophomore at KU.
As a high school senior, Chase is a three-sport athlete, starring in football, basketball and track and field. Chase has helped Nixa's football team to a 3-2 start, lining up at tight end with his 6-foot-7, 220-pound frame. The lanky pass-catcher has only hauled three receptions and one touchdown in Nixa's run-happy offense, but Chase has been having scholarship offers thrown at him by a number of NCAA Division I schools. Chase has received offers from Iowa State, Missouri State, South Dakota State, North Texas and Southern Illinois, and received interest from Nebraska and Iowa.
Chase is currently making the transition from tight end to wide receiver this season at Nixa, and he knows he'll have to hit the weight room hard if he decides to play football at the next level. While Chase has been busy helping Nixa to the No. 6 ranking in Class 5 in Missouri on Friday nights, he has been on visits to Nebraska and Iowa State in the month of September.
"When I went to the Nebraska game (vs. BYU), the Hail Mary, I've never seen a place go from so excited to just so dead in a split second," Chase said. "That was crazy and a fun game to go to. I'm looking at all my options right now. Whether it is football or basketball, just when I find a school that is right for me, that's where I want to go to college."
Chasing hoops
Despite growing up around the sport of football, Chase admitted that basketball has always been his first love.
Chase was an all-state selection during his junior season on the hardwood, averaging 15.7 points and 8.5 rebounds a game. The forward propelled the Eagles to a 28-2 record, including a 27-game winning streak before a 54-52 loss to Blue Springs South in the state tournament. A standout junior campaign led to another opportunity for Chase after the conclusion of the season: a spot on the MOKAN Elite 17-and-under AAU team.
"By the end of the season, I had a starting role on the team," Chase said. "I was playing against guys that were four or five inches taller than me every game and have 30 pounds on me and were a lot more athletic than me. What it really taught me is that I shouldn't be afraid of anyone because I played the best players."
Chase had the chance to play alongside two of the nation's top recruits in Michael Porter Jr. and Trae Young (ranked No. 3 and 26, respectively by Rivals in the Class of 2016), and also garnered some attention from some college coaches. The University of Denver, Western Illinois and Princeton are a few of the schools who have reached out to Chase.
Along with joining the AAU circuit last spring, Chase went out for Nixa's track and field team and threw the javelin. While only participating in three meets, Chase's personal-record mark of 170 feet set a state record in Missouri. It was the first year that the Missouri State High School Activities Association offered the javelin throw.
"One of our assistant basketball coaches, he's an assistant track coach as well, and last spring he said, 'Hey, after our basketball season finishes up, do you want to come out and try throwing the javelin?'" Chase said. "I was like, 'Coach, that sounds like fun. I'd love to come out and try it.'"
Roy's boy
While Chase's performance in all three sports he has competed in has been stellar, he has made his top headline of his life as a fan. Chase was on hand to watch his beloved North Carolina Tar Heels take on Kansas in the third round of the 2013 NCAA Men's Basketball Tournament at Sprint Center in Kansas City, Missouri, which KU won, 70-58.
"I am a very big North Carolina fan because I was raised one," Chase said. "My dad and Roy (Williams, current UNC and former Kansas coach) were really close at KU."
With Chase decked out in his Carolina blue, TV cameras caught him as he reacted to former KU center Jeff Withey blocking a shot. Chase was quickly labeled as the "Crying UNC fan" and ended up trending on Twitter although no tears were actually shed.
"I was cringing at that, but the cameras didn't catch that," Chase said with a laugh. "They just saw, 'Hey, this red-headed North Carolina kid is crying his eyes out. That's great.' I embraced it and had a good attitude about it. It was fun."
Angie keeps KU ties
At the time of the Kansas/North Carolina game, the Allen family did not have any direct connections to KU. That changed when Angie arrived in Lawrence last year to compete on KU's rowing team. In Angie's freshman season, she fueled KU to a second-place finish in the Big 12 as a member of the Jayhawks' varsity-four boat.
"I really enjoy it," Angie said. "When I came in, it was nothing that I expected. It's a whole lot harder than anything I could have expected, but I really think it's helped me become a better person, a better athlete and a better student."
Like Chase, Angie was a dual-sport athlete at Nixa, starring in basketball and volleyball. Angie did not have any prior rowing experience before coming to KU, but her athleticism has helped her find early success in the boat.
"Her dream was to be a Division I athlete at a great school, and it's worked out. And I've learned one lesson … I don't know if there is any sport that works as hard as rowers do," Terry said of Angie. "She's in the weight room or running stadium steps every day. I saw her last weekend after I was returning from the Iowa/Iowa State game and she has got blisters on every part of her hand."
Angie passed up on several scholarship offers to play basketball, primarily at the NCAA Division II level. The 5-9 former hoopster is pleased with her decision to come to KU for rowing, and does not have to look far for some of the friends she previously made on the basketball court.
"I was nominated to be a McDonald's All-American, which is really cool because Lauren Aldridge and Chayla Cheadle play basketball here and I played with them growing up," Angie said of the KU women's basketball tandem. "Lauren Aldridge and I played on the same basketball team since we were like in sixth grade. Her dad was our coach."
Terry's coaching tree
Terry was able to attend a few of Angie's rowing competitions last spring, and also has been able to rekindle a few friendships from his days in Lawrence.
The former KU coach has been back to Memorial Stadium for a few of the Jayhawks' scrimmages and practices as a part of his consulting duties, and still has a connection to the current football staff.
"Clint Bowen was actually a graduate assistant for me, and Clint is a good friend," Terry said. "In fact, he got engaged at my house. So I was tickled to death when he was the interim (head coach in 2014) and now with him being the defensive coordinator."
Terry's career record as a head coach stands at 132-123 (72-26 at Northern Iowa, 20-33 at Kansas and 37-64 at Missouri State), and his message to KU football fans is to be patient with David Beaty during his first year at the helm at Kansas.
"It's going to take a little bit of time, but I think David (Beaty, head coach) is a great guy to get it done, and I just hope and pray for the success of KU football."
Proud papa
With Angie in college, Chase preparing for the next level and Alex in his sophomore year at Nixa, all three of the Allen children are at different stages of their athletic careers.
Although Terry often had to spend time with his players and teaching them life lessons, his children picked up his words of wisdom as well with growing up around his coaching environment.
"We would go to his practices and we would go to the office and see stuff like that, but where it really hit home and where it was like, 'OK, this is why he does that' is that I loved the end-of-the-year banquets," Angie said. "The senior football players would always go up and give a little speech. It was just really cool because a lot of the guys didn't really have a stable family back home and my dad was able to be that father figure in their lives."
Angie was one of 51 KU athletes to be named to the Academic All-Big 12 Rookie team by maintaining a minimum 3.0 grade-point average and completing at least 24 credit hours.
Alex has not let being a three-sport athlete be an excuse for not having time to keep his grades up either, as he carries a 4.0 GPA and scored a 33 on the ACT.
"One thing that my parents are really proud of and that they kind of instilled in us is that we don't just excel on the field or in the boat or whatever the case," Chase said. "We take care of it in the classroom."