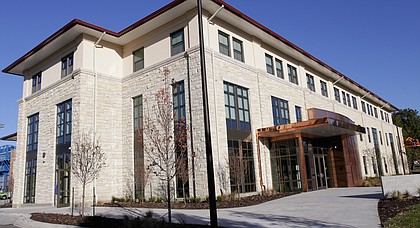 Nobody has to duck inside Kansas University's McCarthy Hall.
With extra-lofty ceilings, tall doorways, high countertops and even shower heads mounted 9 feet off the ground, the new on-campus apartment building is constructed to scale for 7-footer types.
Just opened last week on Naismith Drive next to Allen Fieldhouse, Marie S. McCarthy Hall is home to the 16-member KU men's basketball team plus 21 non-athlete upperclassmen — all male students. There's also an extra apartment for guests, such as recruits or visiting family members.
The $11.2 million, three-story facility was built with private money, and KU Student Housing runs and staffs it.
Construction fell a few months behind, and the basketball players and other McCarthy residents started the semester at Naismith Hall (in past years, the athletes have lived at Jayhawker Towers apartments).
But McCarthy was completed and the residents moved in Oct. 8 — just in time to show off the new hall to basketball recruits who came to town for Late Night in the Phog on Oct. 9.
Here's what's inside:
• Apartments: With full kitchens and private bedrooms. There are two layouts, two-bedroom with one bathroom or four-bedroom with two bathrooms.
• A half-court basketball court: Adjacent to the lobby and visible through big glass windows, with a wooden floor and replicas of the national championship and "Beware of the Phog" banners that hang in Allen Fieldhouse.
• A multipurpose room: With a fully equipped kitchen, large round tables and a couple more TVs. KU Student Housing director Diana Robertson said the kitchen is available to any residents and that Coach Bill Self indicated he may use the space for home game day meals and a pre-game team meeting place.
• A movie theater: Or media room, with 25 plush recliners that each have their own cup holder.
• A barbershop: There won't be a barber operating out of the shop, but the facility is there in case someone comes in from time to time, Robertson said. The room features a crimson leather chair (with a Jayhawk on it) and a counter and sink. The barbershop is adjacent to the game room.
• Game room: With a pool table, ping-pong table and big window overlooking the basketball court.
• An outdoor lounge: This balcony at the north end of the third floor has another fireplace, TVs and tables and chairs.
• Study rooms: One on each floor.
• Fingerprint scanners: In addition to keycard access at other KU residence halls, McCarthy has fingerprint scanners at the building entrance and all apartments.
Living in McCarthy costs $9,875 a year, Robertson said, though full scholarships for athletes cover their room and board. The second most expensive dorm at KU is Oswald/Self — also brand new this fall — which costs $9,230 for a suite with private bedrooms.
---
'Words can't describe'
KU envisions the new facility as both a good home for its basketball players but also a draw for new recruits.
Photo Gallery
A look inside KU's new basketball dorm
The $11.2 million McCarthy Hall, a new apartment complex that will house the Kansas men's basketball team and other non-athlete students, is located just to the southeast of Allen Fieldhouse on Kansas University's campus. Several media members and the Lawrence Douglas-County Fire Medical department recently toured the building. Read more at LJWorld.com/mccarthy
"We have the best venue (Allen Fieldhouse), and we will have the best housing," Coach Self said in a KU Athletics press release prior to McCarthy's construction. "These things are very, very significant for the benefit, development and overall experience of our student-athletes. We want them to be comfortable and have the same type of living conditions as the programs we're recruiting against."
Perry Ellis, a senior forward from Wichita, said he always thought Jayhawker Towers were great.
McCarthy is something else.
"Words can't describe it," Ellis said. "I think it definitely will help persuade kids. It's just so nice."
Ellis — who's 6-foot-8, according to the KU basketball roster — cited McCarthy's super-high ceilings and extra privacy as favorite features.
As for the basketball court, players obviously spend a lot of time already in formal practices — up to 20 hours in a typical week.
The court floor was still curing Wednesday but Ellis said he expected players would try it out as soon as they were allowed.
"It's definitely still fun," Ellis said. "You always want to get better and better."
---
The other residents
In addition to the basketball players, McCarthy is open to male upperclassmen who are not athletes.
Cole Neville is one of those.
A junior majoring in political science and minoring in psychology, Neville transferred to KU this year from community college in his hometown of Scottsdale, Ariz. He said he got a scholarship that's paying his room and board.
Neville called KU to inquire about campus housing and was told he qualified for a new dorm that was under construction. Neville — who has never been to a KU basketball game — said he realized only later that he'd be living with the basketball team.
At that point, he said he started getting excited because he knew "it was going to be really nice."
Neville said he toured McCarthy for the first time about a week before moving in.
"Right when I walked in I was like, 'Oh, wow, OK. This is pretty insane,'" Neville said. "I love it."
So far the place has been pretty quiet, Neville said. Residents have only been in McCarthy a week, part of which was fall break.
"I can't wait to see what it's like throughout the season," Neville said.
Robertson said there currently are two open spots for non-athletes, after one man who had signed up left KU and another decided to move into a different residence hall.
Jim Marchiony, associate athletics director for public affairs, said it's good to have both groups of students under the same roof, especially for the athletes.
"Interaction with non-athletes is vital to college life," Marchiony said. "McCarthy gives them the best of both worlds — it gives them exposure, but it also provides them with a bit more security."
---
Who's Marie S. McCarthy?
Kansas University alumni Kent and Missy McCarthy donated the lead gift to construct McCarthy Hall, which is named after Kent's late mother and proud Kansan, Marie S. McCarthy.
Marie McCarthy was born in 1929 and attended KU on a math scholarship, a rarity for women in her day. She graduated in 1951.
"Mom was a Kansas girl who grew up during the dust bowl era," Kent said in a Kansas University Endowment report. "KU and the basketball team were a big part of her life, and we wanted to honor her."
Contact KU and higher ed reporter Sara Shepherd
Have a tip or story idea?
---
More stories