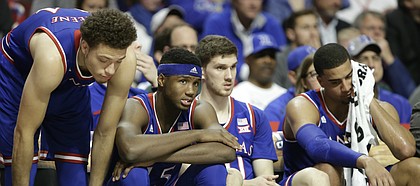 Chicago — Prior to Tuesday night, it had been 36 years since a player recorded a triple-double against Kansas University's basketball team.
Suffice it to say the Jayhawks and their fans — shocked beyond belief after Michigan State's Denzel Valentine went for 29 points, 12 rebounds, and 12 assists in a 79-73 Spartans victory — are certainly hoping it's another four decades before they see one again.
"We couldn't get stops (and) Valentine put their team on their back" KU coach Bill Self lamented after the (1-1) Jayhawks squandered a 13-point lead against (2-0) MSU, and Valentine, whose triple-double was only the second versus KU in the storied history of the Jayhawk program. Magic Johnson, also of Michigan State, had 12 points, 11 assists and 10 rebounds in an MSU win in 1979 in East Lansing, Michigan.
"Give him credit. I always thought he was a good player. I think tonight he proved to everybody he's an exceptional player. I thought he totally controlled the game late. He was great, but we contributed to him being great. We didn't play very smart," Self added.
Photo Gallery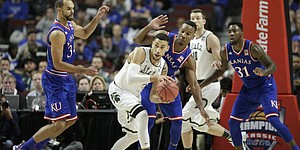 Kansas basketball v. Michigan State
View a gallery of images from Tuesday night's Champions Classic game between the Jayhawks and Spartans at United Center in Chicago.
Valentine scored 21 points in the second half as MSU erased a six-point halftime deficit.
"It's a disappointing loss. We had the game," Self said. "We have to recover from it. I am leaving here pretty (ticked) off because I don't think our guys, me, everybody involved in our program did as good a job as we could. If we did I think we could have pulled this one, off."
The Jayhawks missed a batch of gimmes inside on a night the Spartans outshot KU, 46.7 percent to 34.8.
Podcast
Press Conferences & Post-Game Interviews
Bill Self tries to make sense of KU's Champions Classic loss to Michigan State
"It's the same story as last year. We can't get the ball in any tighter," Self said of inside feeds. "Guys double clutching. We got the ball in to six inches sometimes and several times came out with nothing, some air-balls. We've got to improve there.
"The only thing we did good offensively," Self added, "is we made our free throws (24 of 30) but missed every front end down the stretch."
Wayne Selden Jr., who scored 12 points — Perry Ellis led KU with 21 — was assigned to Valentine much of the night.
"He's a good player. The high pick and roll was bothering us," Selden said. "We didn't play good defense on it."
Noted Ellis: "He's a good player. Give him credit. He played a great game and facilitated his team well."
Sparked by Frank Mason III's five points, KU used a 7-2 spurt to lead, 56-48, at 13:20. But MSU didn't quit, hitting big bucket after big bucket. The Spartans made nine of 21 threes to KU's three of 15. MSU burned KU for 44 second-half points in outscoring KU, 44-32.
"They got us by 10 in rebounding (45-35) but we didn't do a bad job on the glass," Self said. "We just didn't finish down the stretch and didn't guard them like we did the first 30 minutes of the game. Then Valentine took over. He was just great tonight. We did good things to take control the first 33 minutes. They made a ton of plays late to take the game over."
KU actually led, 71-70, off a Selden three with 1:51 to play, but Valentine responded with a driving hook shot at 1:29, and following a three by Matt McQuaid, MSU led 75-71 and had pretty much stolen the game at :56.
"We had breakdowns defensively and were undisciplined at times," Selden said. To be honest, I'm not too worried about our team now. We know we've got to make stops. Everything is correctable that we messed up on. We have an older team. We are to the point we can fix it, not let one turn into two."
— See what people were saying about the game during KUsports.com's live coverage
---
More news and notes from Kansas vs. Michigan State
---