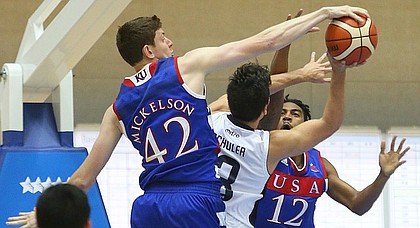 Two of the top individual plays in Kansas University's 89-66 victory over Pittsburg State on Wednesday came courtesy of athletic 6-foot-10, 245-pound senior big man Hunter Mickelson.
— With a half minute remaining in the first half, the alert Jonesboro, Arkansas native, who was shadowing guard Louis Rollins on the baseline, turned as Rollins dished to trailing forward Denton Hays.
The 6-foot-7 Hays had his left-handed offering swatted cleanly by Mickelson. The ball caromed to KU's Lagerald Vick, who passed ahead to Carlton Bragg, who took one dribble, then had his driving layup roll off the rim to a trailing Mickelson, who was right there for the one-handed follow dunk.
"It started off with defense. I was able to block the shot," said Mickelson, who finished with four of KU's nine blocks. "In a situation like that, where the guy (Bragg) is out ahead, he might have two guys on him or one guy on him, you kind of have to follow in case he might miss. It kind of worked out that way."
— Midway through the second half, KU guard Devonté Graham dribbled quickly past halfcourt, then at 3/4 court launched a lob pass that was caught and flushed by Mickelson, who was storming in from the right wing.
"I got a good pass and I was able to go up and get it," Mickelson said, adding of the highlight-reel plays, "they were fun. I enjoyed 'em."
Mickelson finished with two of KU's seven dunks and scored 10 points off 5-of-6 shooting with six rebounds and four blocks in just 13 minutes. He was asked if this was a mere continuation of his stellar play (8.4 ppg, 4.9 rpg) over the summer for KU's gold-medal winning World University Games team.
"I think so," he said. "I'm still working on playing with a lot of energy and keeping the right mindset."
Of his ability to run the floor gracefully for a guy 6-10, Mickelson said: "I've been used to running. I don't mind running that much. I'm pretty good at it for a big guy. I can do it, so it's not too tough."
Mickelson wasn't the only one of KU's bigs to have a solid exhibition opener.
Senior forward Perry Ellis scored 22 points off 8-of-12 shooting, while freshman forward Carlton Bragg netted 14 points off 7-of-12 shooting with six rebounds. Bragg had three dunks.
"Perry is doing what he's always done," Mickelson said. "Carlton is coming into his own playing like that. Both those guys playing like that definitely made me enjoy the game a lot more."
Forward Jamari Traylor had nine points off 3-of-5 shooting with two steals, two assists and two boards in 16 minutes, while a fifth frontcourt player, Landen Lucas, who was battling an ankle sprain he suffered in practice Tuesday, had no points and two boards in eight minutes.
"Frank (Mason III), Devonté, Perry at the three, Carlton at the 4 and Hunter or Jamari at the 5 ... I think that would have been our best team tonight," KU coach Bill Self said. "Hunter did fine. He blocked some shots. They got the ball in tight several times and didn't come away with anything. I thought Hunter played pretty well."
Mickelson said he's been trying to assist Bragg and fellow 6-foot-9 newcomer Cheick Diallo at practice. Diallo has not yet been cleared by the NCAA to play in games, though he practices with the team.
"How to guard certain actions and how to do things on offense, stuff like that," Mickelson said. "Carlton played great. For his first outing in front of the crowd and fans ... he played well and with a lot of energy."
The Jayhawks won by 23 points on a night they committed 15 turnovers and hit just four of 19 threes — 48.6 percent shooting overall to Pitt State's 28.2 percent. KU won the board battle over the Div. II team, 55-45.
"The effort was good. There's a lot of stuff we have to iron out," Mickelson said. "We were still a little rusty tonight."
Giles to announce: Harry Giles, a 6-10 senior forward from Oak Hill Academy in Mouth of Wilson, Virginia, will announce his college choice today during ESPN's 11 a.m. (Central time) edition of SportsCenter. Giles has a list of KU, Duke, Wake Forest and Kentucky with many speculating that the Winston-Salem native will join his buddy, Jayson Tatum, as a Duke Blue Devil.
Giles soon will undergo season-ending surgery to repair a partially torn ACL in his right knee, ESPN.com reported Thursday. He tore the ACL, MCL and meniscus in his left knee the summer between his freshman and soph years of high school.
Sales pitch: USA Today asked KU's Mitch Lightfoot and one commit from Wake Forest, Duke and Kentucky to give a last-minute recruiting sales pitch to Giles.
Here's Lightfoot's pitch: "Harry, I definitely think that Kansas is the place for you. My biggest thing is the tradition. Kansas basketball is always gonna be Kansas basketball. It's where basketball got its start. Kansas fans are amazing and crazy and love their basketball. They're at every game and I can tell you from experience that it's crazy there, which I know you know!
"I've gotten to know every guy on the team. It's a big family and no matter what we'll have that support system. We've got state of the art facilities where we can work on our games 24/7! Then we've got coach (Bill) Self. What else can I say? He's got the track record, the national title and he's produced NBA players? Thirty-two of his last 34 power forwards have gone on to have a professional career. It's a no brainer." For the other pitches go to http://bit.ly/1GO4ylW