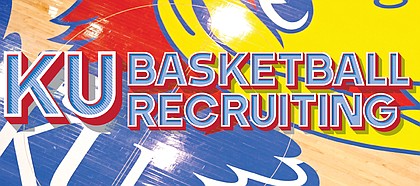 Eudora High sophomore basketball standout Mitchell Ballock has accepted an invitation to the 2015 Stephen Curry Select Camp, set for June 29 to July 2, in Alameda, California.
Ballock, a 6-foot-4 combo guard ranked No. 23 in the recruiting Class of 2017 by Rivals.com, recently was one of 20 prep guards from around the world to receive a personalized You Tube invitation from Curry of the Golden State Warriors.
Ballock won the "best shooter" award at last summer's initial Curry camp.
"What's up, Mitch? Hope you had a great sophomore season back in Kansas," Curry said on the video entitled, "Mitch Ballock, you are officially invited to the SC30 Select Camp."
"You know it was great working with you this past summer. You definitely shot the lights out. My dad definitely wants his revenge this summer (in shooting competitions). So I want to invite you back to the second-annual SC Select Camp. We're going to have a lot of fun. We're going to work hard like we did last year and we'll get even better. Hope you are wearing that (Under Armour) gear proudly and we'll see you this summer," Curry added.
First-team all-state pick Ballock, who averaged 20.0 points, 6.0 rebounds and 3.0 assists per game last season, also has accepted invitations to the 2015 Adidas Nations camp and Pangos All America camp. He has received early scholarship offers from Kansas University, Iowa State, Oklahoma and others.
Is he proud to receive the Curry invite?
"Very," Ballock said. "It should be a good time. It definitely was last year."
The video is available at http://ljw.bz/1IigoDY
Eubanks on radar: Former Baylor signee Kobie Eubanks, a 6-foot-5, 215-pound graduate shooting guard from Elev8 Sports Academy in Delray Beach, Florida, plans to visit KU, Eubanks told Rivals.com on Wednesday.
Eubanks, who is ranked No. 101 in the Class of 2015 by Rivals.com, said he also plans to visit Alabama and West Virginia. He was set to play for Baylor this past season, but there reportedly were issues with his high school transcripts, and he failed to qualify academically.
He decommitted from Baylor in November and then made official visits to Oregon and Texas and an unofficial visit to Maryland. Georgia, UCLA, Alabama and Missouri have also been considered options for Eubanks.
Eubanks averaged 18.5 points as a senior at Our Savior New American in Centereach, New York. He was a teammate of current KU signee Cheick Diallo. He scored in double figures in 25 of 27 games with a pair of 30-point games. Prior to that, he played three years at American Heritage School in Plantation, Florida.
His brother, Nick, is the No. 14-rated football tight end in the country in the Class of 2016. He attends American Heritage High.
Vick update: Former SMU commit LaGerald Vick, a 6-5, 175-pound shooting guard from Memphis, announced on Twitter on Tuesday that he was "Blessed to have just received an Offer from the University of Kansas!" He included a picture of a Jayhawk under the tweet.
Vick, who is ranked No. 137 in the Class of 2016 by Rivals.com, is seriously considering reclassifying to 2015. Kentucky, Louisville and Virginia are also believed interested.
"Right now we're getting his transcript together and it looks like he will be eligible for 2015," Norton Hurd, Vick's Team Thad AAU coach told catsillustrated.com. "Coaches that have seen him play know he didn't get the same spotlight. He's the truth. He's going to make a big impact wherever he goes. He's a really good ballplayer.
"He's looking for somewhere that needs him," Hurd added. "He's not coming to be caught up in tradition, he's coming to (be a) major part of what's going on. If a school doesn't have that available that's not for him."
Of his ability, Hurd told catsillustrated.com: "Offensively he's one of the most skilled guys in the country. He's super athletic. Not too many people in the country can create his own shot like him. He's like an underrated Malik Newman. If he were to go to Kentucky or wherever fans would be like 'Oh my gosh, we got a steal. This is a kid we shoulda took from day one.'"
Mack update: Tevin Mack, a 6-6 senior small forward from Dreher High in Columbia, South Carolina, is expected to visit Texas unofficially this weekend, his mom, Paula, tells midlandshssports.com. He has already used up his five visits. Paula told the website that her son will take part in a virtual tour and video-conference via Skype between Tevin, Paula and coach Bill Self. Tevin, who is ranked No. 61 by Rivals.com, also is considering Clemson, West Virginia, UCLA, Georgia and North Carolina.
KU, which has signed Diallo and Carlton Bragg as members of the Class of 2015, has two scholarships left to award in recruiting.