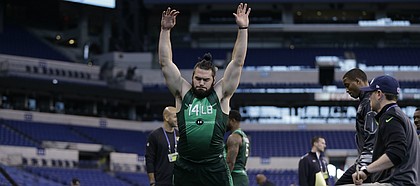 When 139 college football players — including 18 linebackers — heard their names called in the 2015 NFL Draft before Ben Heeney did, the first-team All-Big 12 linebacker from Kansas University began to wonder why he was still available in the fifth round Saturday.
It wasn't hubris that left the Hutchinson native contemplating what might have impacted his draft stock. Heeney didn't claim he should've been picked in the first or second round.
At 6-foot, 231 pounds, he knew his frame wasn't considered that of a prototypical NFL linebacker. But Heeney (127) finished second in the Big 12 to TCU's Paul Dawson (128) in total tackles his senior season, then went to the NFL Scouting Combine and became a top performer at his position in the 40-yard dash, three-cone drill, 20-yard shuttle and 60-yard shuttle.
So did playing at a low-profile program such as KU, which went 9-39 the past four seasons, play a factor?
"I definitely think that hurt my stock," a candid Heeney told the Journal-World shortly after Oakland picked him. "I feel like that's the biggest reason why I didn't get picked earlier. It's nothing against anything I've done. KU just hasn't been at the top in a while, so it hurts me a little bit."
While the Jayhawks certainly played on television channels available nationwide throughout Heeney's days at Kansas, he said it was difficult for players to gain fame when they're not competing in marquee games.
His defensive teammate, cornerback JaCorey Shepherd, had his own issues leading up to the draft, in the form of bad timing. The Big 12's 2014 leader with 18 passes defended (15 breakups, three interceptions) tore his left hamstring three days before KU's pro day. The tendons gave him problems before that, too, when he strained them prior to the combine.
Asked whether playing at KU hurt his chances to make a name for himself in college, Shepherd conceded winning more games might have "helped some," but he didn't think it made that much of a difference for him, because he spent three seasons defending some of the nation's top quarterbacks and receivers.
The 5-11 corner was a sixth-round pick of Philadelphia.
"People can say that, but playing in the Big 12, that's an Air Raid conference," Shepherd said, "and we played teams that were ranked in the top five, the top 10, all the time."
KU's other starting corner, Dexter McDonald, became the second Jayhawk the Raiders snagged, in Round Seven. Like Shepherd, he didn't think the state of KU's program limited him as a prospect. McDonald instead pointed to the success of former Kansas standout Chris Harris, who went undrafted but this past year, in his fourth season, signed a five-year contract extension with Denver for $42.5 million.
The 6-1 McDonald went on to mention other former KU players in the NFL, such as Bradley McDougald (Tampa Bay), once his teammate in Lawrence.
McDonald's takeaway from the draft? KU made a bit of a name for itself, having three players selected.
"If you're willing to work hard and make sure you handle your job," McDonald said, "that's really all you control."
The new Raider said he, Heeney and Shepherd all proved while at KU that their teammates and coaches could rely on them, and he expects their skills and attributes to carry over to the next level.
"I think we'll be just fine," McDonald said.
More Jayhawks land post-draft deals
By Sunday, two more Jayhawks found NFL opportunities, after the draft's conclusion.
Punter Trevor Pardula, who averaged 44.0 yards per punt in two seasons, picked up a camp invite from Kansas City.
Tight end Jimmay Mundine, who caught 45 passes for 584 yards in his senior season, will go to camp with Cleveland.
The day before Pardula and Mundine found their pro opportunities, five of their KU teammates signed free-agent deals: Nick Harwell (Dallas), Nigel King (Miami), Tony Pierson (Chicago), Michael Reynolds (Tampa Bay) and Cassius Sendish (Cleveland).