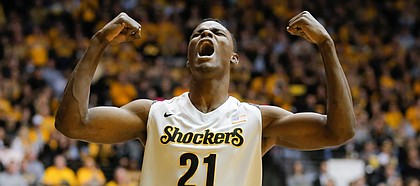 Conspiracy theorists will have a blast with insisting the NCAA Tournament selection committee rigged a potential third-round matchup between Wichita State, which wants to play Kansas University, and the Jayhawks, who won't play the Shockers.
I don't buy that the committee juggles seeds in order to accommodate story lines.
I do buy that the committee, too reliant on crutches such as RPI and strength-of-schedule, sticks it to really good basketball schools that play outside powerful conferences.
A year ago, the committee had to reward the Shockers with a No. 1 seed, based on their being undefeated heading into the NCAA Tournament. So the committee grossly under-seeded Kentucky at No. 8 and put the Wildcats in Wichita State's way. Kentucky won a classic, hotly contested battle and made it all the way to the title game.
Now this? The Shockers won the Missouri Valley Conference outright, and Northern Iowa won the conference tournament. Both schools deserved a No. 4 seed, maybe No. 5 at worst. UNI received a 5, the Shockers a 7.
So if our state's dream showdown happens in Omaha, Kansas will be facing one angry bunch of basketball players, motivated to show the world that there is a reason nobody wants to play them, perhaps with more spectators rooting for the other guys, a la Saturday's Big 12 title game in Kansas City.
It's more than a No. 2 seed should have to face in its second game. Then again, Kansas probably was more deserving of a middle-of-the-road No. 3 seed. Iowa State was the best team it beat, and that was just once in three games.
Notre Dame, with a pair of victories against Duke, two more vs. North Carolina, and one at Louisville, did more to earn a 2 seed. As it turned out, they both are in the same region and could play each-other in a 2-3 game, so it didn't matter. Maryland, a No. 4 seed in the Midwest, has a résumé more befitting a third seed. The Terps defeated Wisconsin, Iowa State in Kansas City and swept Michigan State in the regular season. It's a loaded region, even before considering that Kentucky, the most dominant team since John Wooden's UCLA squads, holds the No. 1 seed.
Advancing out of Kentucky's bracket is a long shot, but if KU and WSU meet, winning a Round of 32 game would not be a bad consolation prize.
Let Kansas players worry about New Mexico State, Shockers about Indiana. The rest of us are counting the hours until the first Kansas-Wichita State game since 1993, when Kansas won, 103-54.