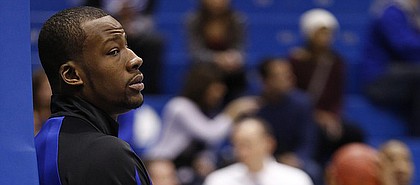 Kansas University basketball coach Bill Self spoke with ESPN's Andy Katz Monday about freshman Cliff Alexander and indicated he won't play in the NCAA Tournament.
This comes less than 24 hours after Self told media on Sunday evening he didn't plan on commenting on the freshman unless something changed with Alexander's situation.
"I think I said nothing has changed (to Katz)," Self told the Journal-World Monday afternoon. "So we're moving forward as we won't have him."
Asked by Katz about the chances Alexander might play in the NCAA Tournament, Self said: "I think the same as it was last week and the week before and the week before that; not very good. We're certainly moving on with the likelihood he will not be available to us. If he is, of course that would be a big bonus, but at this time I don't think so."
Asked about the chances the NCAA and Alexander might actually meet this week, Self said: "I don't think it has anything to do with what he wants to do or with what the NCAA wants to do. They just have to have all the parties on the same page. I'm not privy to that information so I don't know where all that is. I'm hopeful that's the case. I know that's what he wants. Certainly, I don't think we are at the point where that is going to transpire yet."