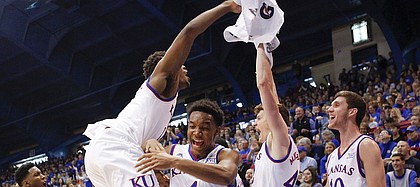 Wayne Selden leaped high into the air on the Kansas University basketball bench, teammate Devonté Graham breaking his fall on the way down as both Jayhawks joined a wild celebration after senior Christian Garrett scored the first basket of his college career with 1:56 left in Saturday's 86-54 rout of Texas Tech in Allen Fieldhouse.
Also, Jamari Traylor jumped up and down while pumping his right fist, Hunter Mickelson and Cliff Alexander waved towels wildly, Sviatoslav Mykhailiuk and Kelly Oubre Jr. screamed and Brannen Greene and Perry Ellis pranced about with smiles on their faces in recognition of the 6-foot-3, 185-pounder's drive through the lane and floater that drew nothing but net.
"Coach told us to run normal ball-screen offense, but he definitely had everybody open the lane up so I could drive it and score," said Garrett, who breezed by two Red Raiders after accepting a pass up top from fellow walk-on Josh Pollard.
"Coach always wants us to play hard no matter what, even if it's the last minutes of the game. I'm obviously thankful I was able to get some room, make a move and drive," Garrett added.
Further explaining the play, Garrett said: "Crossover dribble, make a left-handed layup. (It was) nothing special. It's hard to get in there (lane) at the end of the game. It wasn't like I was going to do anything special, just make a layup."
Garrett said he hadn't dwelled on the fact he had yet to score in a regular-season game as a Jayhawk. He did score two points against Fort Hays State in exhibition action his junior year.
"I don't really even think about it," Garrett said of being blanked until Saturday. "It's actually funny. You can take it what it is ... Me and Perry (Ellis) pray before every game. Last night we both prayed before the Lord, (and God was) saying he is going to play good, and I was going to score. With those kind of things, you wait and see it play out.
"It happened, so we both looked at each other and kind of smiled. It was cool," Garrett added after Ellis' 15-point effort in the win over the Red Raiders.
Garrett further explained on Twitter after the game: "Whether you believe it or not lol doesn't really matter. Me and @PElliz (Ellis) prayed before game last night and God told me I was gonna score. So all glory to God and thanks for the love u guys. Something small u make huge and from the coaches to teammates to fans..u guys r special."
Garrett, who averaged 14.0 points, 7.0 assists and 6.3 rebounds his senior year at IMG Academy in Florida, also had an assist Saturday on a late three by Evan Manning.
"I love it when Evan and Tyler (Self) and all of them (scout team members) score because they work hard in practice. Sometimes they even bust us in practice," freshman guard Graham said. "It's good to see them out there and make shots."
"Like Devonté said, they work very hard in practice. It feels good to see them out there making shots," noted freshman forward Alexander.
For a shot of Garrett's first basket as a Jayhawk and ensuing bench reaction, go to http://ljw.bz/1y1BKjg
Black's big game: Garrett scored his first points several hours after his good buddy, Tarik Black, had a breakout game for the Los Angeles Lakers. Former KU power forward Black scored 14 points off 4-of-4 shooting (6-for-7 from the line) and grabbed nine rebounds in just 17 minutes of action of the Lakers' 101-84 win over Orlando on Friday night.
Black sought out Lakers' coach Byron Scott and thanked him for the playing time after the game.
"As soon as I walked through the door (after getting traded from Houston to L.A.), coach shook my hand and told me that as long as I work hard, I'll be all right out here. Usually coaches don't even really talk to us like that unless you're their franchise player or their top draft pick," Black told the Los Angeles Times. "Undrafted guys? They don't give you the time of day. Coaches here have shown me love from day one."
Of Black's performance, L.A. guard Nick Young told espn.com: "He was an animal out there."
Guard Jeremy Lin added: "That was awesome, man. Awesome."
Scott noted: "He's picked up everything extremely well and extremely fast. That's why in the second half I didn't hesitate to put him in."
ESPN noted that Black doesn't have a nameplate above his locker. The 6-11, 267-pounder doesn't worry about such trivial matters.
"God brought me this far and I don't think he brought me this far to fail," Black told espn.com. "It was a blessing to play in Houston. I'm very grateful to that organization. No bad blood at all. It's a business decision. I knew what happened. It took place and it was onto the next phase and the next thing to come and it was the blessing of coming here."
Reporters in L.A., by the way, like the ones in Kansas, have picked up on the fact Black shakes the hand of media members and says, "Thank you for the opportunity," after every interview. To see an interview after the Orlando game go to http://ljw.bz/1BRZcjW
Pokes visit Tuesday: KU (13-2, 2-0) will meet Oklahoma State at 6 p.m. Tuesday in Allen Fieldhouse. The Cowboys (12-3, 2-1) defeated Texas, 69-58, on Saturday, in Stillwater, Oklahoma. OSU also has beaten Kansas State at home (61-47) and lost at Iowa State (63-61). In the nonconference season, OSU lost to Maryland (73-64) and South Carolina (75-49) and beat Memphis (73-55) and Missouri (74-72, OT).
Bragg pots 31: Future KU forward Carlton Bragg tied a career high with 31 points in Cleveland Villa Angela-St. Joseph High's 72-59 win over Mentor on Saturday night. It was the 6-foot-9 Bragg's first game since offering an oral commitment to KU. Bragg, by the way, might be 6-10 by the time he's a Jayhawk. He's listed as 6-10 by his high school and Cleveland media, 6-9, 225 by the recruiting services.
Doyle a Rambler: Yes, that was former KU guard Milton Doyle playing against Wichita State on Sunday. Doyle, a 6-4, 185-pounder from Chicago's Marshall High, scored eight points off 3-of-8 shooting with three assists, two turnovers and a steal in Loyola of Chicago's 67-53 home loss to the Shockers.
For the year, the combo guard averages 12.4 points off 50.8 percent shooting (23-of-47 from three, 48.9 percent). He has 59 assists, 48 turnovers. The Ramblers are 12-4, 2-2.