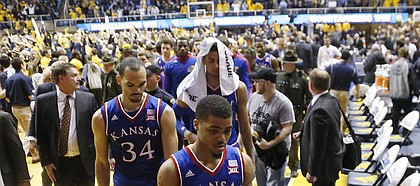 Kansas University basketball starters/team leaders Perry Ellis and Wayne Selden Jr. called a players-only meeting on Tuesday night at Jayhawker Towers in response to the Jayhawks' 70-63 loss to Kansas State on Monday in Manhattan.
"Just getting back on the right page," sophomore point guard Frank Mason III said of the purpose of the session.
"We obviously don't want to be the team to mess up the Big 12 streak (10 straight championships). So we just got together (to) talk about the things we need to do, becoming better on the defensive end, just doing everything coach needs us to do," Mason added.
Podcast
Press Conferences & Post-Game Interviews
Kansas basketball coach Bill Self speaks with media about where the Jayhawks stand headed into their final three games of ...
Podcast
Press Conferences & Post-Game Interviews
Kansas sophomore point guard Frank Mason III says the Jayhawks gathered on their own earlier this week to discuss what ...
The loss to K-State dropped (22-6, 11-4) KU into a tie (in the loss column) with Iowa State in the Big 12 race. However, Baylor beat Iowa State on Wednesday night in Ames, meaning KU again holds a one-game lead over ISU, West Virginia and Oklahoma with three games remaining.
"Different guys stepped up, said different things, had their own opinions," Mason said of the meeting. "We just all took it and tried to make it positive and make the change."
Things are again looking up for the Jayhawks after Iowa State's 79-70 home loss. In fact, KU could wrap up at least a share of the league title by winning home games Saturday (Texas, 4 p.m.) and Tuesday (West Virginia, 8 p.m.).
"I got to catch the second half, the majority of the second half," Mason said. "I think everyone was watching. We weren't all together. Everyone was watching in different rooms. Everyone kind of got a feel of what happened last night. Baylor made a lot of threes. They (Bears) helped us out a lot."
KU coach Bill Self watched basketball while working overtime in his office until heading home about 9 p.m., Wednesday.
"Duke and Virginia Tech," Self said. "There was one other game on that I watched a little bit of. I can't even remember which game it was."
He resisted any temptation to view ISU-BU.
"Because if I watch it (ISU-BU), I'd be, you know, nervous and all that stuff. I didn't watch one play. I think Kurtis (Townsend, assistant) watched it. I think Jerrance (Howard) and Norm (Roberts, assistants) watched it."
Asked what he thought when he was told the final ISU-BU score, Self cracked: "Well, I followed the score (on computer). Iowa State was playing very well and got up eight or 10. Based on what I was told, Baylor went on a run and made like five threes in a row or something like that.
"Two good teams playing. Of course, we know how good Baylor is because they gave us all we wanted twice. Iowa State is as talented as anybody. It doesn't matter unless we take care of business ourselves moving forward. But I'd be lying if I didn't say that last night I was definitely a Baylor Bear fan."
Jerrance returns: KU assistant Howard is back on the job after serving a two-week suspension. Self suspended the second-year KU aide after learning Howard was arrested last summer in his Peoria, Illinois hometown for marijuana possession.
"We haven't made a big deal about that. Of course he's happy to be back at work, without question," Self said.
No whining allowed: Self said he hasn't discussed Monday's court-storming with his players as a group.
"I thought our guys handled it well. But that's the end of the discussion. That's on somebody else to handle it, not for us to keep talking about it. We need to move on," Self said. "To me, when you keep talking about that, you sound like a little whiny brat. It happened. Can't change that it happened. If we'd have played better, not allowed it to happen, it would never have occurred."
He added: "I mentioned it to Jamari. I thought he handled it better than most would."
KU's Jamari Traylor did not retaliate after a fan ran into him by the south goal.
Jerseys: KU and adidas on Thursday unveiled a new alternate uniform that the Jayhawks will wear during the 2015 postseason.
The look, dubbed "Made in March" features a basic jersey with "Kansas" written across the chest and shorts with a giant Jayhawk on the sides.
According to the release, the uniform system was "designed with adidas' most innovative and advanced apparel and footwear technology to help the Jayhawks play at their highest levels during college basketball's biggest moments."
The jerseys were designed with the same lightweight, sweat-wicking technology used in the NBA and targeted ventilation zones on the chest, back and side to keep players cool during games. A perforated pattern on the shorts maximizes comfort and breathability.
The uniform package also includes the choice of signature adidas shoes from NBA All-Stars Damian Lillard, John Wall and Derrick Rose.
KU officials said the Made in March uniforms could be worn as early as the Big 12 Championship (March 11-14) at Sprint Center in Kansas City, Missouri.
Kansas is already slated to don the Heritage Classic uniforms on Saturday against Texas.
"I don't even know if our players know they're wearing throw-back jerseys (vs. UT). I know we're wearing some commemorative uniform based on it being the 60th anniversary of our building. I said, 'If it's our 60th anniversary, why aren't we wearing the uniforms they were wearing 60 years ago?' Adidas didn't want to do that," Self said. "So we'll wear kind of a throw-back I guess mid
'80s, late '80s uniform, which is fine. Players like putting on a new uniform, but it's not that big a deal. But having (ESPN) Game Day here and playing Texas, knowing what's potentially at stake, I think everybody should be pretty excited."
Adidas, of course, doesn't win all the battles.
"I actually have stepped in and not done some of the stuff that adidas wanted to do," Self stated.