Manhattan — After losing two straight Big 12 road games — and three of the last four including Monday's 70-63 clunker at Kansas State — it's gut-check time for Kansas University's basketball team.
"We've got to find ourselves. We've got to figure out what's wrong," KU sophomore guard Brannen Greene said after the (22-6, 11-4) Jayhawks dropped into a tie with Iowa State for first place in the Big 12 and saw their two-game lead over West Virginia and Oklahoma sliced in half.
"Basically that was the message (after game). We've just got to find ourselves," Greene repeated.
Photo Gallery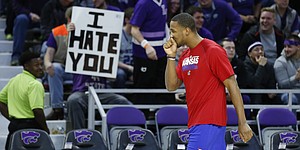 Kansas basketball v. Kansas State
Images from Monday night's game between the Jayhawks and Wildcats at Bramlage Coliseum.
Podcast
Press Conferences & Post-Game Interviews
Kansas University basketball coach Bill Self discusses the Sunflower Showdown & K-State's court-storming following Monday's 70-63 loss in Manhattan.
Podcast
Press Conferences & Post-Game Interviews
Perry Ellis & Kelly Oubre shed light on what went wrong vs. K-State.
K-STATE 70, KANSAS 63
KU was left searching for answers after connecting on just two buckets in the final 10 minutes against a (14-15, 7-9) KSU team that entered having lost seven of eight games. The Jayhawks were scorched by KSU guard Nigel Johnson, who scored a career-high 20 points off 8-of-11 shooting (4-5 from three). That's the same player who'd scored just two points combined in the past three games.
"Oklahoma State we should have won. West Virginia we had our chance to pull it out. Here obviously we should have won. I mean I feel like we're a superior team to them," Greene said of the Wildcats.
The reason for KU's recent woes?
"When we play other teams, they get into their stuff. They run their stuff. We're not applying enough pressure on defense, to the ball-handler. On offense they deny us. It messes up all our stuff. We can't get into a rhythm," Greene said.
"We've got to finish at the basket. We've got to get our spacing right. Guys are on top of each other," he added after scoring seven points off 2-of-6 shooting. He was 0-4 from three on a night KU hit two of 13 treys.
"I honesty don't know. Like coach said, we've got to figure some things out."
Greene said Monday's result was especially disappointing because, "we knew this was a game coming in we had to get the win. Basically we threw the Big 12 Conference up (for grabs). I mean, it's anybody's now. Iowa State's not going to lose any more. They've got a pretty easy schedule. It's on us now. We've got to win," Greene said.
Or as Perry Ellis said after scoring 24 points, "We have to take each game like it's the last game we ever played."
KU used a 9-0 run to grab a healthy 41-33 lead with 16:31 left. 
However, KSU tied it at 47 with 11:22 to play.
A crucial 8-0 KSU run erased a 54-52 KU lead and gave the Wildcats a six-point lead at 6:03, with the Jayhawks' offense nonexistent late.
"They played great. They played hungry," Self said of the Wildcats, who hit 47.2 percent of their shots to KU's 39.3. KSU hit 56 percent the final half.
"We played pretty well the first 30 minutes (trailing 31-30 at halftime). Dumb plays allowed them to stay right there. We had a six-point lead multiple times. Dumb play after dumb play gave them momentum. We were not switching on the triangle and two (defense). So many bad plays. The foul to end the half was one of the bonehead plays of all time (Landen Lucas fouling Nino Williams on the offensive glass with 1.2 seconds left; Williams hitting both free throws). We missed six layups," Self lamented.
Except for Ellis, who hit 10 of 16 shots, KU didn't have much of an inside game. Cliff Alexander had no points and four boards in 10 minutes. Lucas and Jamari Traylor had two and one point respectively in 14 and 18 minutes.
"Our bigs got a goose-egg (on field goals), 40 minutes and a goose-egg," Self said. "If you are not going to score, which is fine, at least be a defender and rebounder. We've got to improve in that spot. It's a team spot, not just one individual. You've got to guard the ball on the perimeter and keep them out of the paint. We had too many breakdowns."
Noted Ellis: "We didn't take care of the ball (13 turnovers to KSU's 12). We weren't attacking the rim. We needed to get in the lane. We weren't. We needed to hit shots and didn't.
"It's the little things we realize we have to do, little effort plays, helping each other out on defense," Ellis added.
It all boiled up to KU's second straight loss in Manhattan. Last time that happened was the 1981-82 and '82-83 seasons in Ahearn Fieldhouse.
"Basically four teams are still in it (race)," Self said. The team that plays the best the last two weeks will have the best chance. We've not played well the last couple weeks," he noted, with one positive the fact he boarded KU's team bus in one piece after getting bumped following a wild court-storming incident after the game.
No KU players or coaches were injured.
"I wish they wouldn't. It's dangerous," KU's Greene stated of the storming.
KU will next meet Texas at 4 p.m., Saturday, in Allen Fieldhouse.
---
More news and notes from Kansas at K-State
---