Kansas University junior Perry Ellis received a loud, long standing ovation during his acceptance speech for his Danny Manning "Mr. Jayhawk" team MVP award at Monday night's basketball awards banquet in Lawrence's Holiday Inn convention center.
The 6-foot-8 first-team All-Big 12 forward from Wichita used the platform to announce his plans to stay at KU for his senior year and not enter the 2015 NBA Draft, obviously a popular decision with the fans.
Photo Gallery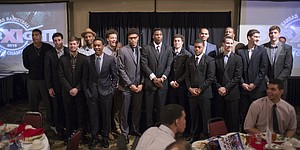 Kansas basketball postseason banquet
Images from the Kansas men's basketball postseason banquet and awards presentation.
Podcast
Press Conferences & Post-Game Interviews
Kansas junior forward Perry Ellis announced Monday night at KU's basketball banquet he decided to return for his senior season ...
Podcast
Press Conferences & Post-Game Interviews
Kansas basketball coach Bill Self speaks with the media following KU's team banquet, where junior forward Perry Ellis announced his ...
"I've been talking to my family and coach about the future. Looking back on the season, there's still a lot left on the table. I feel it'd be best for me to come back," he said, causing more than 500 banquet-goers to jump to their feet in joy.
"I've known for a while, just thinking how much more I can improve. It's a big thing getting my degree," he added. "That's huge for me. Coming back to get that, to be set for life. I (also) know there's another step I can take."
Ellis, who averaged 13.8 points and 6.9 boards a game for 27-9 KU, was armed with information from the NBA undergraduate advisory committee and other sources regarding his NBA Draft stock.
"Some thought first round; a lot were second round. I can still get better. That's what I want to do," Ellis said.
He said the NBA wants him to "expand my range, dribbling. That will be key for the summer — guard workouts. It's a lot of perimeter stuff, shooting and stuff. That's what they want to see. I'm going to work as hard as I can on that and go from there."
Asked if he was tempted to start his pro career, Ellis, who said he made his decision about a week ago, stated: "That's the goal. You can't rush it. You'll know when the time comes. It hasn't come yet. I'm still glad to be here."
Ellis said he's fully recovered from the knee injury that slowed him at the end of the season and is even playing pick-up games without a brace.
"Going off what the NBA people said, probably early- to mid-second round with a chance to help himself in the workouts," KU coach Bill Self said of Ellis' likely draft stock had he left KU. "Also, a chance not to help yourself. If you are going to those workouts and banking on that getting you in the first round and don't have great workouts, that's not going to help you at all. He made the right decision. I really believe, though, if Perry stayed healthy he could have been a first-round pick.
"The whole thing is, he has a chance to be a top-10 scorer (at KU), and I'd assume high in the rebound ranks. He will be at least a two-time first team all-league player. He is going to graduate. Then who knows if he can make an All American team, maybe even get his jersey hung up there (in KU rafters), if that's the case. There's still a lot to play for.
"What we were told by other people, people other than me, is, 'You can't hurt yourself coming back. You can only help yourself.' Hopefully he'll have a Frank Kaminsky-type senior year and shoot up the charts," Self added.
"It's not a surprise to me at all, nor probably anybody that he came back. But there was probably more a chance he could go than what a lot of people thought."