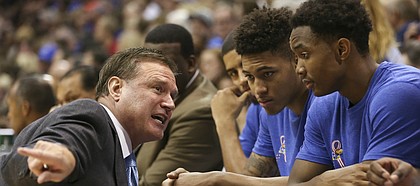 The demise of college basketball appears to have been somewhat exaggerated.
As critics of the game point out, scoring was down in 2014-15 and amount of possessions per game also lagged a bit, but overall TV viewership — fans' interest in watching the sport that has been called a "joke" by UConn women's coach Geno Auriemma — is up.
It was recently reported by "TV By the Numbers" that ESPN's 36th season of college hoops was its second-most-viewed in history — just a few thousand viewers below the previous high set in 2013-14.
Also, the NCAA has indicated the 2015 NCAA Tournament has had its highest average viewership in more than 20 years.
Still, most agree imperfections do exist.
"I think our game is not quite as good as what it has been," Kansas University coach Bill Self said recently.
As the Indianapolis Star pointed out in a story at http://ljw.bz/1awzvMA, scoring this season was down 3 1/2 points per game.
Also, the paper reports the average college men's game included 1.7 fewer possessions than a year ago.
"The game is more physical than what it has been. Me personally, I'd like to see the clock lowered (from 35 seconds to 30), see some things where there are more possessions," Self said.
"The thing that is a little discouraging is not length of game, but pace of play. Possessions per game is at an all-time low. We need to do something to spice it up. It's for people smarter than me to figure it out.
"It's still a great game. We've got to be able to do something to help it. Look across America with other sports ... baseball has done radical things to help the game. Football has done things to help the game. We've made attempts, but have not had the success we thought. Hopefully we can come up with something to make the game better," Self added.
Aside from shortening the shot clock five seconds, Self suggests, "Eight seconds (instead of 10) to get it across (halfcourt). If there's timeout in the backcourt, you don't reset to 10. If there's a foul in frontcourt, don't reset to 35, reset to 18 or whatever. Reduce the shot clock. The biggest thing is, we've got to call fouls. It's hard to call fouls when everybody fouls every possession. Somehow we've got to get some absolutes like handchecking up front. That will create situations we learn to defend in a way that allows more freedom of movement. When that occurs, I think the game will get better."
Self, who preaches in-your-face, man-to-man defense, said part of the reason scoring is down is simply, "Bad offense. I think a lot of it is, it's easier to coach defense than offense, and a lot of times it's easier to stop people than it is to exploit people. I think a lot of coaches feel that way.
"Here is the philosophy: The other team can't score, you can't lose. And you can control your defense and your rebounding and things like that. You can control that a lot easier than you can control execution and making shots.
"I think it's hard to win games because people give up less easy baskets. One stat that you can look at, and one reason why numbers are down, it appears to me there's less transition in college basketball than what there appeared to be in years past. And of course with less transition, there's obviously fewer possessions."
Most fans seem to agree it's more fun watching point guards push the pace rather than walking with the basketball.
"Our players' skill sets, I don't think, is quite as good. I think it's generally going down in large part because we don't have as many good players playing, many great players playing the college game as what we've had in most of the years past because none of them stay past their sophomore year," Self said.
Self is in favor of letting players enter the NBA Draft right out of high school but would love for those who do attend college to stay two years.
He said he believes games still can be entertaining for those watching on TV and paying the price of admission and donations to get the best seats possible.
"The product is still great. You know, you go through phases of time in baseball, home runs are down or home runs are up, and football scoring is down or up. That's just kind of the way it happens," Self said. "But I think the rules committee has done a good job to promote the right things to give offenses not an advantage, but if it's run right and executed right, that you would have an advantage over somebody that's not as sound defensively."
Storming issue: Kansas State president Kirk Schulz told ESPN's Andy Katz that the Big 12 will address the issue of court-storming at its spring meetings in a story available at http://ljw.bz/1awzwQA. Schultz said he believes court-storming should be allowed after games, but opposing players and coaches must be protected.
Self was pinned at the scorer's table, and Jamari Traylor was charged by a KSU fan after the Wildcats' win over KU on Feb. 23 in Manhattan. It's possible the Big 12 could copy the lead of the SEC and fine schools that allow court-storming.