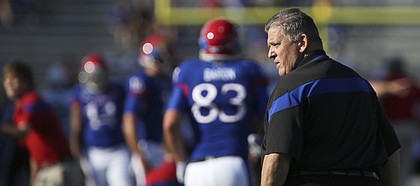 It's beginning to feel as if Kansas University football coach Charlie Weis' make-or-break season has been downsized to a make-or-break game, at 2:30 p.m. Saturday against Central Michigan at Memorial Stadium.
The start to this season, Weis' third of a five-year, $12.5 million contract — a bill absorbed mostly by the generosity of deep pockets belonging to some who might feel slighted that Weis never let them close enough for a view into his extremely tight circle — has been so flat as to move up the calendar on decision day regarding the coach's job security.
Athletic director Sheahon Zenger has an old-school approach to much of his job, and that includes having a distaste for firing coaches in mid-season and handing the reins to an interim head coach. Normally, such a move is too desperate and disruptive. But if Kansas doesn't defeat Central Michigan on Saturday, the question becomes one of which is less disruptive, moving an interim head coach into the swanky office or leaving in his chair the coach not reaching his athletes. It's tough to make a case for the latter.
Weis didn't need to inspire his players to victory against a rock-solid Duke squad loaded with experience and discipline, but it's not too much to ask the coach to instill enough life into his players to have them run onto the field for the start of the second half. Instead, the Jayhawks walked, showing all the urgency of that guy strolling through the church parking lot, dreading listening to the long-winded preacher.
Once the game resumed, the Jayhawks ran, although not very fast, and too often in futile pursuit of a Blue Devil.
Duke 41, Kansas 3 was preceded by Weis painting an optimistic picture that included him talking about the game being a favorable matchup for KU, which has won precisely 20 percent of its games since Mark Mangino was shoved out the door with a 50-48 career record. The post-Mangino winning percentage drops to zero in 22 games decided by 27 points or more.
With a victory Saturday, Weis would climb from last on the KU all-time coaching list, where he sits with a .192 success rate, to 35th, climbing past Bob Valesente (.205) and Turner Gill (.208). One of Weis' five victories, at home against West Virginia, left Kansas fans feeling good. An empty feeling was taken back to the car after the other four. Three came against Football Championship Subdivision opponents, by an average margin of just 13 points. The lone Football Bowl Subdivision victory, aside from West Virginia, came by a 13-10 score against a Louisiana Tech squad so vulnerable it was blasted the following week by Army, 35-16.
Worse than those unflattering numbers, the program's not headed in the right direction. In the three games against FBS competition since Cozart led the Jayhawks to the upset of West Virginia, KU has been outscored, 106-13. In those three losses, Montell Cozart completed 18 of 46 passes for 122 yards, no touchdown passes and four interceptions. That's a completion percentage of 39, with 2.7 yards per pass attempt against Iowa State, Kansas State and Duke.
Based on what he saw of Cozart in the offseason, Weis expected a more confident, productive quarterback. Cozart looked that way against Southeast Missouri State, but wasn't prepared for the uptick in competition. Weis also missed on his projections of Dayne Crist and Jake Heaps, which calls into question the coach's ability to evaluate college talent.
An NFL offensive coordinator's job is to put the pieces in the right places to leave the defense in unfavorable matchups. A college head coach's job is to evaluate the right athletes to recruit and then develop them with college-style practices. On game day, the head coach's most important job is to let intellect take a back seat to inspiration and put the players in the right emotional state to play out of their minds.
Thus far, Weis, a celebrated NFL offensive coordinator, has not shown strength in any of the areas necessary to squeeze victories out of an underdog football program.
If my hunch is right about the importance of Saturday's game, and if enough boosters make it known they're ready to pay what it takes, the players still can save their coach. We'll see how hard they're willing to play for their coach on the ropes. We'll see how badly they want to win one for Charlie.