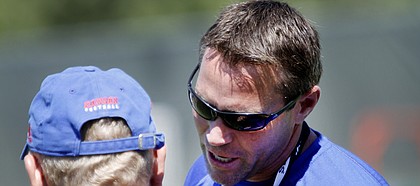 Monday morning, newly named Kansas University interim head football coach Clint Bowen said the KU coaching staff had jumped on board with the transition with great attitudes and incredible energy.
Tuesday, several coaches got the chance to make Bowen look good by backing up those claims in their meetings with the media.
"Coach Bowen's got a way about him," said KU quarterbacks coach Ron Powlus. "And his approach is we're all in this together and let's go do the best we can. I'm in full support of that and I think the whole staff is. The way you get to things is crazy, but to have coach Bowen leading this football program right now is a good thing for him and for the University of Kansas, there's no doubt about it."
By now, the stories of Bowen having grown up in Lawrence and played at KU are old news. But they still mean something to many on the KU coaching staff, some who are in their first or second seasons with the program. Wide receivers coach Eric Kiesau is one of those guys, and Kiesau said Tuesday that he had been impressed by the way Bowen had handled himself since taking the keys to the head coach's office.
"The love and passion he has for this place is real and you saw that the first couple of days," Kiesau said. "He's grown up here, he's played here, his family's here, he's got so many ties here. And I think that'll kind of drive him to want to do well. It's pretty unique and special to see that."
One guy who has seen it and known it for quite a while is KU offensive coordinator John Reagan, who worked with Bowen on Mark Mangino's staff and has known the 42-year-old KU coach for a long time.
Video
Video by Benton Smith
Asked how having Bowen as his direct boss had changed things the past couple of days, Reagan cracked a smile and quipped, "I guess he could tell me what to do if he wanted to."
Reagan continued: "We do have a very good relationship. We've been friends for a long time, both on a professional and personal level. We were both a part of doing something here previously and winning some games and, right now, it's just a matter of working together and making sure we're all headed in the same direction."
That's the ultimate goal for Bowen, who approached his first regular, weekly news conference with the media with a business-like attitude and showed no signs of any lingering stars in his eyes from the honeymoon period of being handed what is without question his dream job.
"Everything from right now, on through this weekend, is all about preparing to head to Morgantown (West Virginia) to win a football game," Bowen said. "That's our players' focus, that's our coaches' focus, that's the entire program's focus from this point forward."
Open competition
Bowen said Tuesday that he opened up some spots to competition during the past few days and did so with the idea that everything that's achieved in the program from here on out is earned. Most of that sounds like it will show up on special teams, where Bowen said several first-string guys and a handful of young guys would get an opportunity to prove they should be out there.
"Sometimes players get labeled a certain way, put in a certain role that's sometimes fair or not fair," Bowen said. "So I made the comment that we are gonna start clean. Everything's gonna be earned."
Special teams lift
Bowen said he expected the special teams portions of practices from here on out to have a different look and feel now that Louie Matsakis, who was promoted from director of player personnel to special teams coordinator, had been promoted.
"I think they're going to be blown away by what he has prepared to show them," Bowen said. "Our special teams starting (Tuesday) will be drastically different because of his ideas and his input. We're not going to be more than a minute into special teams, and think the kids are going to understand there's a difference."
Good luck, John
Bowen has talked a lot about how this program, under his watch, would be run by a group of coaches sharing input and working together to try to put the Jayhawks in the best position to succeed.
Nowhere will that be more clear than on offense, where Bowen admitted he had not paid much attention to this year or in recent seasons.
"Any amount of time I would have spent has been more than I did in the past, because I really never gave it one second of a thought," Bowen joked. "But yes, I went down and visited with John, and I have no ideas for him."
Reagan's OK with that.
"The ultimate goal is always to put the players in position to make plays," Reagan said. "I don't think you'll see wholesale changes. We're not changing the school colors or anything. But Clint has such a passion for this place and has been here through the good and the bad and the ugly and the good."
Depth chart tweaks
One major change showed up on the depth chart this week. Junior tackle Larry Mazyck was moved into the starting role at right tackle in place of Damon Martin. Martin, who has dealt with illness for the past couple of weeks, was not on the depth chart. Red-shirt freshman Joe Gibson, who also has battled illness, was back in his spot with the second team behind starting center Keyon Haughton.