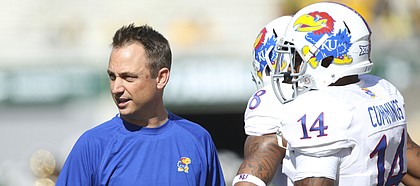 Video
Video by Benton Smith
Podcast
Press Conferences & Post-Game Interviews
Interim Kansas University football coach Clint Bowen speaks with the media at his final weekly press conference, before the Jayhawks ...
Kansas University co-offensive coordinator Eric Kiesau has spent the early part of the week doing his best to break down the reality that lies ahead for the KU football team, which will play its season finale at 3 p.m. Saturday against Sunflower State rival Kansas State in Manhattan.
"What I told 'em was, this is the week of lasts, and they looked at me like I was crazy," Kiesau said during the final Tuesday meeting with the media of 2014. "This is the last Monday we'll have together, the last Tuesday we'll have together, last Wednesday, last Thursday, last Friday and then at the end of the week it's gonna be this will be the last time most of you guys will put a helmet on. This is it."
When this season began back in August, that was the farthest thing from these players' minds. Many of them, old and young, believed 2014 would be different than what's gone on in the recent past and most expected to be making plans for the postseason and a long-awaited bowl game. But a 3-8 season, which has included just one victory in Big 12 play, is their reality and that makes Saturday's Sunflower Showdown the final chapter for several Jayhawks.
"My point is, don't let it slip away," he said. "Don't take this last week for granted. I'm talking about with your buddies in the locker room, when you're sitting there and you're BSing and laughing and having a good time, those bonds that you have, you won't have those next week when you're in the classroom or out having lunch. It's not the same as when you're in the locker room or in the meeting rooms and you're preparing for games."
Kiesau believes that this KU roster is smart enough to realize that, but, speaking from his own experiences as a former player, he believes it's important that they recognize it before it's too late.
"Sometimes they get in the grind of the season a little bit and they kind of take it for granted a little bit and they don't realize how special it is until it's gone," Kiesau said. "So that's really what I'm trying to get them to do. Enjoy this last week and kind of savor every moment."
In some ways, the Jayhawks already have done that. A little less than two weeks ago, on Nov. 15, KU played host to TCU in what was the final home game in the careers of 21 KU seniors. Like that game, this weekend's match-up figures to include all kinds of emotion, before, during and after. Interim KU coach Clint Bowen, who also will be dealing with a last of his own — the KU administration will rev up the search for a full-time coach beginning next week — said he thought his team could draw on that experience to help them get through this weekend.
"I think it's always a little bit of a motivating factor for players to look and say, 'This is it, this is the last time I'm putting this helmet on for sure,'" Bowen said. "So our seniors will be ready. They've been a tremendous group and been leaders throughout, so I'd expect the same from them for this game."
Bowen appreciative
After fielding the final question at Tuesday's news conference, Bowen took a moment to thank the people who believed in him enough to give him the opportunity to be KU's interim head coach for the past nine weeks — chancellor Bernadette Gray-Little, athletic director Sheahon Zenger, the KU coaching staff, his players, etc. — and then offered up his first concrete thoughts on the coaching search and where the program goes from here.
"On the head coaching search deal, I've been asked several times my thoughts on it and what I think and how it affects me and those deals, and I've never really made a comment about it," Bowen said after calling the opportunity one he would never forget. "I've never made it a secret or didn't let it be known that I would like to have this job, but like I mentioned earlier, the point of this whole thing, isn't about me. It's not ever going to be about me. It's about this team, this university and this football program. Dr. Zenger has a great plan and a process in place to find and hire the best person possible to lead this program forward. When the selection is made, I truly believe this, it's time for everybody to put their full support behind that decision."