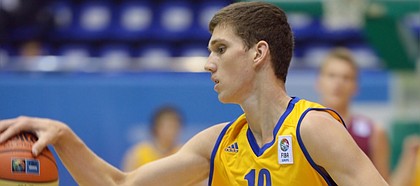 Sviatoslav Mykhailiuk, who this fall will become one of the youngest (if not the youngest) college basketball players in history, is apparently more than ready for the challenge of big-time hoops.
So says Kansas University coach Bill Self, who on Wednesday announced the signing of the 6-foot-8 combo guard/small forward from Cherkasy, Ukraine, to a national letter of intent.
"Obviously, this is great news for us," Self said. "He is 16 years old and will turn 17 in June (the 10th), but his skill level, knowledge and aptitude for the game are way beyond his years. I think that he will be an immediate impact guy.
"He is a guy that can play all three positions on the perimeter. At 6-8, he can play point, play the No. 2 (shooting guard) or the No. 3 (small forward). He allows us to be more versatile next year, and certainly there would be few people that would shoot it better than him."
Mykhailiuk, whose name is pronounced "Sviat-is-slov Meh-kai-luke" (he prefers to be called Svi, pronounced Svee), already has completed school in Ukraine, which would keep him at KU for a minimum of two years because of the NBA Draft's age-requirement rules.
He played for the Cherkasy Monkeys of the Ukrainian Superleague last season but according to draftexpress.com's Jonathan Givony never signed a contract, thus would qualify under NCAA amateurism guidelines.
"We got a lot better today," Self said. "He's not here yet, and he won't come until the fall because he's going to stay back and play with his national team this summer, which we strongly encourage. He's a young man who will be so exciting to watch his growth because of his age, his intellect and his 'want to.' This guy really wants to be a player and really wants to do it here in the States."
Mykhailiuk averaged 25.2 points and 8.0 rebounds a game while representing Ukraine at the 2013 Under 16 European Championship. He hit 28 percent of his threes, went 77 percent from the free-throw line and was named to the all-tournament team.
"He's extremely talented and can really shoot it," an NBA executive told ESPN.com, comparing Mykhailiuk to former Michigan standout Nik Stauskas. He also has been compared to the San Antonio Spurs' Manu Ginobili. "He has to get stronger, but he can make a play with the ball in his hands. He gets bumped off his route right now," the NBA source said.
Another NBA scout told CBSsports.com: "He's a shooter with athleticism that can dribble and pass."
ESPN's Fran Fraschilla said if Mykhailiuk played high school ball in the U.S. next season, he'd be a top-10 player in the recruiting Class of 2015. Self watched
Video highlights
The Journal-World's Matt Tait discovered a few video highlights of the newest Jayhawk in his Tale of the Tait blog
Mykhailiuk at the Nike Hoop Summit in April. Mykhailiuk made an official recruiting visit to KU and runner-up Virginia two weeks ago. He also heard from Iowa State and Oregon and received offers from several European teams.
"I liked everything (about KU)," Mykhailiuk said. "From the history, the strength program and especially the coaches … everything. It's Kansas. KU has players every year. Coach Self has had so many players go to the NBA. That's an important thing."
Mykhailiuk joins a recruiting class that includes Rivals.com's No. 4-ranked player Cliff Alexander, No. 6 Kelly Oubre and No. 36 Devonté Graham. KU has one scholarship remaining in recruiting.
"Who knows what will end up happening with Andrew (Wiggins) and Joel (Embiid), but right now the consensus is that they will be two of the top-three players taken in the NBA Draft," Self said of a pair of one-and-done KU players. "How do you replace guys like that? The answer is, you don't. The way you try, though, is to go out and sign Cliff, Kelly, Devonté and now you add Sviatoslav to the mix. This could arguably be one of the very best recruiting classes that we've had. I think of last year's class and I think of the class with Brandon (Rush), Mario (Chalmers) and Julian (Wright) — this class definitely rivals that."
This, that: Mykhailiuk played opposite future teammates Oubre and Alexander in the World Select Team's loss to Team USA at the Nike Hoops Summit. Mykhailiuk scored two points off 1-of-4 shooting (0-for-3 from three) with two turnovers and a steal while playing 13 minutes. He was the youngest player in that game. ... The son of mother Inna, a high school biology teacher, and father Iurri, a college history professor, Mykhailiuk has taken English classes for much of his life and speaks English fluently. ... Draftexpress.com lists Mykhailiuk as 6-foot-6 in shoes, citing a Nike Hoops Summit measurement.
Fran says: ESPN's Fraschilla said this about Mykhailiuk in a blog at ESPN.com: "He shouldn't be characterized as a point guard or shooting guard because he is multiskilled and can play either position, and he showed that during the World Team practices. ... He handles the ball well for his size and has a better-than-average feel for the game as a playmaker. ... Though he will turn only 17 in June, Mykhailiuk is well put-together physically for a young player. ... Initially, I see Bill Self using Mykhailiuk off the ball where he won't have the pressure of running a team. As he grows more comfortable in the Kansas system, he will be entrusted to have the ball in his hands more."
Sasha a hero: Mykhailiuk was impressed that KU's Self coached Sasha Kaun, a native of Tomsk, Russia, at KU. Contacted by the Journal-World, Kaun, who plays pro ball for powerhouse CSKA Moscow, said he'd yet to meet Mykhailiuk.
White compiling list: Former KU guard Andrew White III, who has elected to transfer, tells zagsblog.com he has "been hearing the most from University of Maryland, Richmond, Notre Dame, Nebraska, Wake Forest, Miami and Florida State." Former KU All-American Danny Manning coaches Wake Forest, and former KU guard Mark Turgeon coaches Maryland. White plans to make some official visits before choosing a transfer destination.