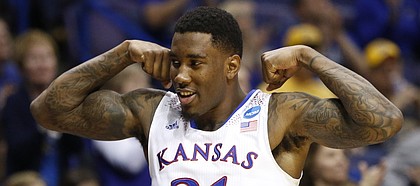 Photo Gallery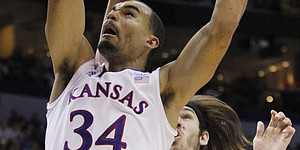 Kansas basketball v. Eastern Kentucky (NCAA Tournament opener)
Images from Friday's first-round game between the Jayhawks and Colonels at Scottrade Center in St. Louis.
Podcast
Press Conferences & Post-Game Interviews
Kansas basketball coach Bill Self, sophomore forward Perry Ellis and freshman guard Conner Frankamp discuss KU's NCAA Tournament win over ...
Video
Video by Benton Smith
KEEGAN RATINGS
KANSAS 80, EASTERN KENTUCKY 69
St. Louis — Kansas University senior Tarik Black was the first Jayhawk to greet his big buddy, sophomore Jamari Traylor, after the final horn sounded in KU's 80-69 victory over Eastern Kentucky on Friday in an NCAA Tournament opener in Scottrade Center.
"I just told him, 'Thank you for the win. Thank you for extending my senior season.' That's what I told him, because he was a major reason I have another game to play and my season is not over, my college career is not over," Black said after a game in which the 6-foot-8 Traylor scored a career high 17 points and grabbed a career-best 14 rebounds in 22 minutes.
Traylor had 16 points and 10 rebounds in the second half for the No. 2-seeded Jayhawks, who survived the gritty No. 15-seeded Colonels and advanced to Sunday's Round of 32 game against Stanford.
"Coach (Bill Self) said he couldn't be happier for me," said Traylor, whose previous career high in scoring was 10 points against TCU on Feb. 15 and previous career best on the boards was nine twice, last against Oklahoma State on March 13.
"Coach said, 'Great game. Keep up the energy and everything,''' Traylor added.
The Chicago native, who is known for his high-octane play in coming off the bench, was even more energetic than usual on Friday.
He posted on Twitter on Thursday night how bored he was sitting in his hotel room hour after hour watching NCAA Tourney games.
"The thing about tournament time is we don't get to do much. We just sit in the hotel all the time and watch basketball," Traylor said. "There were good games on and everything, but I don't like to sit around. As a little kid I liked to go outside all the time. I don't like to be locked in my room.
"I definitely wanted to get out here and play. I was tired of being locked in my room."
Junior point guard Naadir Tharpe — who had four points, three assists and four turnovers in 21 minutes on a day freshman guard Conner Frankamp exploded for a career-high 10 points and four assists in 25 minutes — noticed a restless Traylor on Thursday.
The two are roommates in the Hyatt Regency at the Arch Hotel this trip.
"I was resting. He kept on talking to me: 'Naa, Naa, I can't wait for this game. We've been in the room all day. I can't wait to play.' I kept telling him, 'We're going to play tomorrow. We're going to play tomorrow.' Now I can see why he was so excited," Tharpe said.
"He played tremendous for us. He went out and played a game."
Traylor's fierce block of a Glenn Cosey shot came right after Traylor scored a basket off a drive and free throw to tie the game at 56. Following the block, Wayne Selden hit a free throw and Traylor dunked after retrieving Selden's errant free throw toss. Andrew Wiggins (19 points, four rebounds) then hit a basket and free throw and KU led, 62-56, with 7:35 left.
"Jamari brought it for us," said Black, who contributed 12 points, five boards and four blocks. Perry Ellis also was strong inside with 14 points and 13 boards. "Coach said he had 17 and 14. Those are big-time numbers, huge stats," Black added.
Perhaps the only negative of the night for Traylor was a play just before halftime. He fouled Orlando Williams outside the three-point line with KU up, 32-30, and 0.4 ticks on the clock. Williams made two of three free throws to tie the game at half.
"I think that was one of the dumbest plays I ever made in my life. Coach let me know about it," Traylor said. "That was pretty boneheaded I may say. I was upset at first, and in the locker room, but I shook it off."
And he had the best game of his still-young career, helping save the Jayhawks on a day they were outscored from the three-point line, 36 points to none.
"Personally I'd say yeah it's my best game, but it's one game. It's a long tournament. I've got to bring it every time," Traylor said.
Self can only hope Traylor builds on Friday's outing.
"Jamari came in and did such a great job. He gave us so much energy tonight there are no words to explain," Self said. "I told our guys after, I don't know if he's had a better game. He had 17 and 14. He made that one boneheaded play at the end of the half, but he'll do that time to time because he tries so hard. And he is just trying a little too hard. But he was terrific."
He lives to play another day in this tournament. On Sunday, KU meets Stanford on a day Traylor's mom, Tracey, is slated to be in attendance. She's driving in from Chicago for the contest.
More motivation for KU's energy man?
"She made it to the Big 12 tournament, Late Night in the Phog, maybe one more game besides that," Traylor said. "My mom works at night (for Ford Motor Company). Any time she can get off work she likes to come see me play. I'll be looking forward to that."