Photo Gallery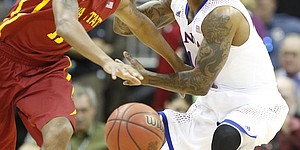 Kansas basketball v. Iowa State (Big 12 Tournament)
Images from the semifinal round of the Big 12 Tournament between the Jayhawks and Cyclones at Sprint Center in Kansas City, Mo.
Podcast
Press Conferences & Post-Game Interviews
Kansas coach Bill Self, as well as post players Perry Ellis and Tarik Black, react to KU's BIg 12 semifinal ...
Video
Video by Benton Smith
KEEGAN RATINGS
IOWA STATE 94, KANSAS 83
Kansas City, Mo. — Soft-spoken Perry Ellis issued a stern warning to his Kansas University basketball teammates after Friday's 94-83 loss to Iowa State in a Big 12 tournament semifinal in Sprint Center.
"After the game, he told us, 'No more, no more. We can't let this happen any more,''' freshman guard Frank Mason said. 
"That was the biggest thing we got from him."
Ellis, who erupted for 21 points in the first half and finished with 30 points off 11-of-12 shooting (seven of eight from the line), was most perturbed and concerned about his, and his teammates' play on the defensive end.
Iowa State lit up the Jayhawks for 94 points off 54 percent shooting (11 of 19 threes). 
It was the most points allowed by the Jayhawks in a regulation game in Bill Self's 11 years at KU.
The Jayhawks allowed 92 last Saturday at West Virginia and 92 against Iowa State on Jan. 28, 2012. Most points allowed by a Self team in an overtime game is 96 against the Cyclones on Feb. 25, 2013.
"That's definitely unacceptable to give up that many points," Ellis, a sophomore forward from Wichita, said. "That's just way too many points. We have to realize if we want to continue pursuing (a national title) in this (upcoming NCAA) tournament, we have to be a team that is able to get stops.
"I think with us, as a young team, it's just mental," Ellis added. "We have to have a mentality we need to stop the men we are guarding. We have to figure that out or it's going to end soon."
Thanks in part to Ellis, the Jayhawks survived eight ISU three-pointers the first half and led, 48-46, at halftime. But ISU outscored KU, 48-35, the final half.
"Coach said with a team like that ... we can't try to outscore a team like that," said KU point guard Naadir Tharpe. "We have to get stops. We didn't get stops as one.
"We couldn't get stops at the end. It was back and forth. We can't let that happen," Tharpe added.
Iowa State's Georges Niang had 14 of his 25 points the final half as the Cyclones finished with a whopping five players in double figures. DeAndre Kane had 20 points, Melvin Ejim 19, Dustin Hogue 12 and Monte Morris 11 for a team that hit 68 percent of its second-half shots, just three of seven threes.
"They were killing us on the inside and outside," Tharpe stated of ISU, which opened a 59-52 lead off a three by Kane with 14:26 left. KU actually never crept closer than six the rest of the way.
Said soph forward Jamari Traylor."We can't win games going out and letting teams get 90-some points on us. We have to get more stops in a row, hunker down on defense and finish the possession with rebounding. We didn't do that today."
Self had been quite pleased with his squad's defense in a 77-70 quarterfinal win over Oklahoma State on Thursday.
"We're not going to play a team more than likely in the tournament that's better than Iowa State was tonight offensively," Self said. "But sure I'm concerned. I don't know of any coach that wouldn't be concerned about different things with their ball club. That's an area we've been inconsistent (defense) because our defense last night was exceptional.
"Tonight it wasn't as good and the matchup was harder for us tonight. We historically play better defense when you play against two bigs and tonight we played against zero. That makes it hard for us to guard."
KU has allowed 90-plus points in two of the last three games with 7-footer Joel Embiid out because of a stress fracture in his back. Embiid isn't expected to return for next weekend's NCAA tourney games.
"We definitely have to adjust," Ellis said after the Jayhawks allowed 38 points in the paint, tying a season-high by the opposition. "He would deflect a lot of the drives and contest a lot of those shots. We have to focus on keeping them out of the paint. That's an emphasis we have to do now without him."
"We do have to change," noted Tharpe, who went 0-for-3 from the field and five of six from the line and finished with five points, nine assists and two turnovers. "We don't have Joel so there is a change we have to do. We have to guard the perimeter. We don't have anybody down there to block shots like Joel. We have a couple that can defer shots. Nobody can block like Joel. We have to all defend better."
On a positive note, Ellis' 11-of-12 shooting from the field marked a new Big 12 tournament field goal percentage record (91.7). He had nine field goals at halftime, most by a KU player in a half since Nick Collison hit nine shots in the second half against Duke on March 27, 2003.
"Being aggressive," Ellis said of the key to scoring 30, two points shy of his personal best mark. "That's what I always say and what coach always tells me, be aggressive is what I'm trying to do."
That's offensively ... and defensively.