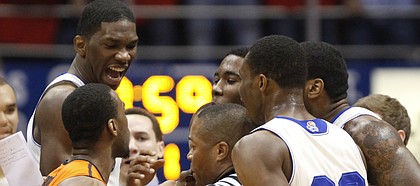 The officials were kept busy trying to keep order on the court the last time Kansas University played Oklahoma State in basketball.
KU's Jamari Traylor, Joel Embiid and Wayne Selden were assessed technical fouls in the Jayhawks' 80-78 victory on Jan. 18 in Allen Fieldhouse. OSU's Markel Brown (2) and Stevie Clark, who has since been dismissed from the team, also were hit with T's.
The teams will meet again at 8 tonight at Gallagher-Iba Arena.
"I think the motivation is it's Oklahoma State, and we've developed a pretty good rivalry with them in recent memory," said KU coach Bill Self, whose Jayhawks (22-6, 13-2) can claim the undisputed Big 12 crown with a victory over an OSU (18-10, 6-9) squad currently on the NCAA Tournament bubble.
KU with three games remaining can do no worse than tie for the league crown.
"The last three games (with OSU) have been really close, last-possession-type games, and certainly the opportunity to win a game away from home in front of a national audience on Game Day I think is plenty of motivation in itself," Self added of a game to be played with ESPN's "Game Day" crew in town.
The Jayhawks, who led by 19 points in the first half of this year's first meeting, had to hang on at the end. KU freshman Frank Mason, who hit one of two free throws with 5.4 seconds left to give KU a two-point lead, was able to get a hand on the ball as Le'Bryan Nash failed in his attempt to hoist a two-pointer before the buzzer.
Last year, KU won 68-67, in overtime in Stillwater, avenging an 85-80 loss in Lawrence in which OSU's Marcus Smart did a backflip after the final horn sounded.
"We are rivals, both tough teams. We are not soft," said senior center Tarik Black, who had eight points and two boards in the first meeting. Naadir Tharpe led the Jayhawks with 21 points and six assists against six turnovers, while Embiid came close to a triple-double with 13 points, 11 rebounds and eight blocks. Phil Forte, who has moved into the starting lineup, led OSU with 23 points off 7-of-10 three-point shooting.
"He's obviously to me one reason why they are playing better, because he's played well and plays better whenever Marcus is in the game with him," Self said of the Marcus High (Flower Mound, Texas) teammate of Smart. "They are kind of like the twins, Marcus and Markieff (Morris), looking for each other. I think that he is certainly as good a sixth man as there is in the country coming off the bench and giving energy-making shots."
In the past two games — wins over Texas Tech and at TCU that followed a seven-game losing streak (three losses during a Smart suspension) — the 5-foot-11 Forte has averaged 21.5 points a game. Smart has averaged 16.5 points, 8.5 assists, 5.5 rebounds and 5.5 steals.
"Yeah, they're different," Self said of the Cowboys with Smart on the floor. "I know that I was a guy probably that sang his praises as much as anybody since he's been at OSU because I got to know him through the recruiting process. He's good. He can impact the game and not score. He's one of the few guys out there that can control it. His defensive anticipation is probably as good as anybody that we'll ever play against, not just this year. He's a good player, and obviously he and their team have been through a lot here of late. He's spinning it into a positive."
The much-anticipated Smart-Andrew Wiggins showdown didn't materialize in that first meeting. Smart scored 16 points off 3-of-14 shooting (10-for-10 from line with 10 rebounds) and Wiggins three points off 1-of-5 shooting.
OSU coach Travis Ford came away from that contest impressed with 7-foot freshman Embiid, who hit five of six shots, but just three of seven free throws
"He (Embiid) made some nice blocks, and he's got great timing," Ford told the AP. "You know he's in there."
Just 3-7 since the last meeting with KU (the Jayhawks are 9-2 in that span), OSU will play KU tonight, meet Kansas State on Monday and close Saturday at Iowa State.
"At this point of the season, all of the games are big," Ford told the Tulsa World, acknowledging, "There's some excitement around this game."
There could be a lot of excitement for KU if the Jayhawks claim a victory and the outright league title.
The Big 12 title trophy figures to be presented to KU's players in the locker room with the T-shirts and hats broken out of the boxes if the Jayhawks win. Another way KU could wrap up the undisputed crowd today is if both second-place Texas and Iowa State lose. Texas plays at Oklahoma and Iowa State is at Kansas State.
Self's 700th: Self today will coach his 700th career game. His record is 529-170 in 21 season.
Semifinalist: Wiggins has been named one of 10 semifinalists for the 2014 Naismith Trophy, the Atlanta Tipoff Club announced Friday. Four finalists will be announced March 23.
Recruiting: Justin Simon, a 6-4 junior combo guard from Temecula Valley (Calif.) High, tells Rivals.com he has received a scholarship offer from KU. He's ranked No. 80 in the Class of 2015.