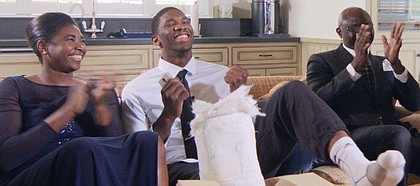 Fresh off last week's foot surgery, Joel Embiid couldn't fly from California to New York for Thursday's 2014 NBA Draft.
So the 7-footer out of Kansas University did the next best thing, enjoying the draft with family members in his agent's house in Los Angeles, the city where he's been working out and where he had the surgery.
Seated between his mom and dad, Embiid broke into a big smile after he was selected No. 3 overall by Philadelphia.
"It's different. I'm disappointed not to be there. I wish I could be there," Embiid said on ESPN. "I'm excited the Sixers took me. I still can't believe it. I started playing basketball so late. Just being here means anything is possible."
Embiid, who grew up playing soccer and volleyball in Cameroon, has only been playing organized hoops four years now.
His draft stock didn't fall much following surgery to repair a stress fracture in the navicular bone of his right foot as well as the stress fracture in his back that kept him out of the NCAA Tournament.
"I mean, from my back injury it hurt me, but I saw doctors and they said I was going to be fine. Unfortunately this foot injury happened a week before the draft. I believe in God and God knows what he's doing. I've always said it and I'm just going to keep praising him," Embiid said.
"It's a very exciting day for me and my family," Embiid told ESPN, happy he's in Philly. "A lot of hard work has gone into my journey to be here and I am truly blessed to be able to realize my dream of being drafted. While I wish I could be in New York, I'm happy that my family is here with me to celebrate with me. I'm more determined than ever and looking forward to getting back to work with my new team."
Embiid was involved in a brief controversy on Twitter through no fault of his own.
ESPN's delayed feed showed a somber Embiid after the Sixers' pick was announced. Problem was Embiid actually broke into a big smile and pumped his fists after the announcement was made. The network showed the actual clip of Embiid rejoicing to clear up any confusion.
"Hello Philly!!!! This is my real 'just got drafted' face. Couldn't be happier to be a 76er!!!" Embiid wrote on Twitter, showing a photo of him smiling widely.