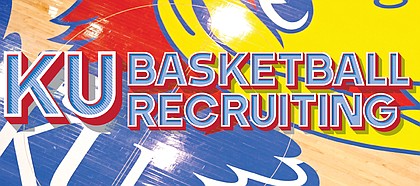 Stephen Zimmerman, a 7-foot, 240-pound senior center from Bishop Gorman High in Las Vegas, will make an official recruiting visit to Kansas University for the Oct. 10 Late Night in the Phog.
Zimmerman, who is ranked No. 7 in the recruiting Class of 2015 by Rivals.com, on Sunday night announced that he would visit North Carolina on Oct. 3, KU the following weekend, Kentucky on Oct. 17, UCLA on Oct. 24 and Arizona on Nov. 7.
Zimmerman later tweeted that he had not eliminated Indiana and UNLV, just that he would not officially visit those schools. Players are allowed five official campus visits.
Zimmerman averaged 15.2 points, 10.2 rebounds, 3.1 assists and 3.0 blocks last season at Gorman. Zimmerman in June helped the USAUnder 18 national team to the championship of the FIBA Americas tournament. He averaged 8.8 points and 6.2 rebounds in 15.8 minutes per game for 5-0 Team USA. He had nine points and nine rebounds in the title game.
In May, when Zimmerman cut his list to eight (he's since eliminated Louisville), he told the Las Vegas Sun: "I look for schools that are going to help me develop the most. My goal is to get to the NBA. I want a school that's going to help me get better as a player and a person. Winning's a big factor, obviously everybody loves winning, but that's a side note to the development part.
"All these schools have sent at least someone to the NBA. They all have done it in some way, although some more than others. I do look at how a player was when they got there and how they ended up. That can show me if they got worse or not. Maybe they were supposed to be higher in the draft and then ended up going low. The draft is one of the biggest things that I'm looking for in a college."
Svi excels: Incoming KU guard Sviatoslav Mykhailiuk has averaged 17.3 points a game for Ukraine in his country's first four games at the Under 18 European championships in Sofia, Bulgaria.
Mykhailiuk, a 6-7 combo guard from Cherkassy, has hit 23 of 52 shots for 44.2 percent. He's made seven of 28 threes for 25 percent and 16 of 24 two-point tries for 66.7 percent.
He's converted 16 of 19 free throws and also averaged 3.3 rebounds, 1.3 assists, 2.0 turnovers and 2.3 steals while logging 23 minutes per game. On Sunday, he had 13 points off 4-of-11 shooting (2-8 from three) with four rebounds while playing 20 minutes in a 87-55 rout of Ireland.
Diallo likes KU: Cheick Diallo, a 6-9, 220-pound senior center from Our Savior New American in Centereach, New York, attended, but did not play for Team Scan of Bronx, N.Y., in the KC Hardwood Classic over the weekend in Overland Park. He's considering KU, Kentucky, Iowa State, Pitt and others.
"I have talked with him and I know he really likes Kansas," his teammate, Austrian Robinson, told Jayhawkslant.com. "He likes them a lot. He is a big fan of Joel Embiid."
Diallo, who is ranked No. 5 in the Class of 2015 by Rivals.com, grew up playing soccer in west Africa. Former KU center Embiid is from Cameroon.
Athletes First, whose top player, combo guard Allonzo Trier, played in just one game, won last weekend's Sunflower Showcase in Shawnee. That tourney will be moving to Lawrence next July.
Mario in town: Mario Chalmers today will host his 6th annual Mario V. Chalmers Foundation Golf Tournament and VIP Mixer at Alvamar. The shotgun tourney begins at 1 p.m. Proceeds will benefit the Mario V. Chalmers Foundation and Mario's Closet located at Lawrence Memorial Hospital. Both the Mario V. Chalmers Foundation and Mario's Closet support and fund initiatives for breast cancer research, treatment and awareness.