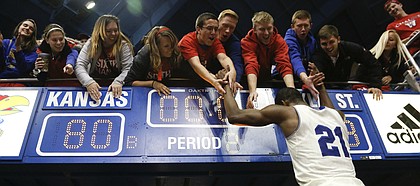 Photo Gallery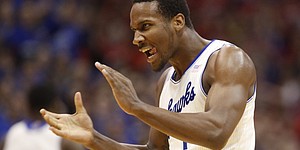 KU basketball v. Oklahoma State
Images from Saturday's game between the Jayhawks and Cowboys at Allen Fieldhouse.
Podcast
Press Conferences & Post-Game Interviews
KU coach Bill Self calls KU's 80-78 victory over Oklahoma State "a relief."
Podcast
Press Conferences & Post-Game Interviews
Jamari Traylor, Naadir Tharpe and Joel Embiid following KU's 80-78 victory over Oklahoma State
The Keegan Ratings
Kansas 80, Oklahoma State 78
Kansas University senior Tarik Black isn't surprised six technical fouls and a double foul were called in the Jayhawks' 80-78 victory over Oklahoma State on Saturday in Allen Fieldhouse.
"We are rivals, both tough teams. We are not soft," Black said after a game in which KU's Jamari Traylor, Joel Embiid and Wayne Selden were given T's, as well as Oklahoma State's Markel Brown (2) and Stevie Clark.
"Stuff is going to happen, especially two teams like that in a game as important as this. We never expect to be perfect. It comes with being a tough team," Black added.
No punches were thrown during several skirmishes. Selden did clip OSU's Marcus Smart with an inadvertent elbow as the two chased a ball headed out of bounds in the second half.
"They did a lot of talking and shoving and stuff like that," KU's Naadir Tharpe said. "We came back and just attacked them and that's what we needed to do."
Coach Bill Self's take: "It was guys making plays that weren't smart, especially from our standpoint."
Self knows why emotions ran high, though.
"Marcus Smart doing a backflip (after last year's OSU win in Allen), that was our fault (for losing). It wasn't his fault, but the media was able to play on that," Self said. "I think because the media played on it, I think both teams were tuned up pretty good today, which is good, positive. We need that."
Joel Embiid received a T for a third straight game.
"I mean, I just have to keep my cool and stay calm — and not have any dumb fouls anymore," Embiid said.
Embiid, KU's freshman center, nearly had a triple-double with 13 points, 11 rebounds and a KU freshman record eight blocks.
"I told Joel as soon as he stepped foot on campus, 'You're going to be the No. 1 pick (in NBA Draft). Now it may not be this year but you will be a No. 1 pick if you come out and the time is right.' I'm not saying he will be this year. When he comes out, if he stays and the times it right, he could be No. 1 pick in the draft," Self said. "I don't think it (success) should come as a surprise to him because he's been told all along he's capable of doing this."
Double turnover: A big play took place when OSU's Marcus Smart stole the ball from Tharpe, and Tharpe stole it right back with KU up, 59-56. Tharpe followed the sequence by hitting a three and stretching KU's lead to six with 10 minutes left.
"That was big because I don't like getting the ball stolen from me at all, especially off of the dribble. It kind of hit off my leg and then he ripped it from me, but I knew he didn't have a chance to run and I was still right there so I just tried to get a jump ball and rip it back away and luckily I was able to get it back and we came out with a basket," Tharpe said as KU avoided completely squandering a game-high lead of 19 points.
Broken thumb: KU sophomore Evan Manning broke his right thumb at practice this week and will be out three weeks, Self stated.
No foul: Self said he didn't consider fouling OSU on its final possession. KU had four team fouls as Le'Bryan Nash raced down court with five seconds left and OSU down by two. Self said the Jayhawks hadn't practiced such a situation, thus wouldn't do that in a game until it had been addressed at practice.
Self had a feeling of deja vu during the game: "It's an eerie feeling, but that's the same game we had against Michigan to end our season last year where you play not to lose, the other team is making everything they throw up there," Self said. "It's a good teaching moment for us."
Greene does well: Freshman Brannen Greene scored five points the first half while working seven minutes. He didn't play the second half. "I just try to come bring energy. I fed off my teammates," Greene said. "I thought they started great. Tarik (Black, eight points first half) and those guys bringing energy. I felt it only right I do the same thing."
Faces in crowd: Green Bay Packers quarterback Aaron Rodgers, plus former KU players Elijah Johnson, Jordan Juenemann, Bryant Nash, Tyrel Reed, Dave Robisch, Wayne Simien, Kevin Young, Jeff Graves and Tyrone Appleton. Former KU forward Paul Pierce had a taped segment on the video board in which he said, "Beware of the Phog."
This, that: The Jayhawks are now 4-2 against ranked opponents in 2013-14, and 3-0 against top-10 foes (No. 4 Duke; No. 8 Iowa State, No. 9 OSU). ... Oklahoma State entered Saturday's contest with a top-10 mark in shooting percentage, but was held to a season-low 39.4 percent from the field. OSU's previous low was 40.4 percent at K-State. ... KU shot 55.8 percent and improved to 10-1 when shooting better than 50 percent. ... Phil Forte sank seven three pointers, the most by a KU opponent this season. It was also his career-high. The seven makes marked the second consecutive year that a OSU player has drained that many, following Markel Brown's performance from last season ... With 1:56 left in the first half, freshman guard Wayne Selden drained his first three-pointer to extend his streak to 11-straight games with at least one three-point make.