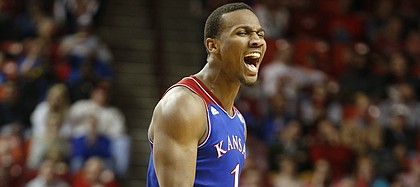 Photo Gallery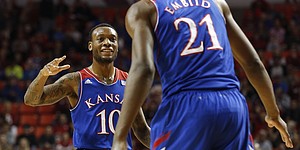 Kansas basketball v. Oklahoma
Images from Wednesday night's game against Oklahoma in Norman.
Podcast
Press Conferences & Post-Game Interviews
Bill Self talks Wayne Selden and his technical foul after 90-83 win over Oklahoma.
Podcast
Press Conferences & Post-Game Interviews
Perry Ellis, Wayne Selden, Naadir Tharpe talk after 90-83 victory at Oklahoma.
KANSAS 90, OKLAHOMA 83
Norman, Okla. — Kansas University basketball coach Bill Self chose Wednesday's day-of-the-Oklahoma game shoot-around to tell one of his prize freshmen to look for his shot more in games.
"He's really been encouraging me. He actually said it today, too," Wayne Selden said after exploding for a career-high 24 points off 9-of-17 shooting — five of 10 from three — in the Jayhawks' 90-83 Big 12-opening victory over the Sooners in sold-out Noble Center.
"The confidence my teammates and coaches have in me ... that's the main thing and being out there just playing, not thinking," Selden added, when asked about the key to surpassing his previous high of 15 points, set against Duke in November.
Selden's previous high in shot attempts was 10, also versus Duke. The most threes he'd hit in any game was two against both UTEP and Georgetown. The most he'd attempted in a game was four, three different times.
"I don't know if he needed it, but we needed it," Self said of Selden being given an order to shoot. "We need him to be more aggressive looking to score, to be a threat. He's a starting two guard in our league that has played a lot of minutes in a lot of big games. He's made 12 threes for the year (coming in). That's not enough.
"I told all our guys: 'New stats, new season. We won't even talk about stats from the first season. Everything is fresh and new from this part forward.' I think it gave them a bit of a new life so to speak."
Selden, who hit six of his first eight shots, had 15 of KU's first 24 points as the Jayhawks led, 24-17, just 8:09 into the game.
"Wayne got us off to a good start," Self said of the 6-5 native of Roxbury, Mass. "We were a team that that lacked confidence a little bit coming in. It was nice to see a freshman step up and basically give us confidence early on. That was about as well as we executed half-court offense all year in the first half."
Selden was mighty motivated after failing to score in double figures since hitting for 10 points against New Mexico four games ago.
"I feel I wasn't playing the best I could play, personally. I feel my teammates and coaches kept encouraging me. I wanted to start off the Big 12 season playing a little bit better," Selden said.
Selden scored eight points and Perry Ellis (22 points, 11 rebounds) two in a 10-5 run to open the final half and give KU a 60-49 lead. Selden also had perhaps the inspirational play of the night when he dove for a loose ball, controlled it and called a time out with 6:04 left, KU up, 78-74.
"That's just Kansas Basketball, that's what I think," Selden said. "We're trying to start out Big 12 play on the right foot. We said, 'We've got to go after all loose balls and pick up our defensive intensity.'''
Self, who had been seeking plays like that during a stretch in which the (10-4, 1-0) Jayhawks had won four of eight games, applauded the effort on the play.
"We attempted to take several charges tonight. We got on the floor a lot," Self said. "The play where Wayne dove, Perry dove first and Wayne followed it up.
"We showed Aaron Craft's play to our team 30 times last night."
Ohio State point guard Craft had a similar play in which he dove for a loose ball Tuesday and tied it up versus Michigan State.
"We haven't been getting that type of energy and effort, not because they are not trying," Self said. "For whatever reason we've been playing handcuffed and have not been able to let it go. That was some guys letting it go tonight. I was really happy with that."
Naadir Tharpe, who had three fouls the first half, scored six points and Selden one as KU led, 85-79, at 2:41. Next, Tharpe (17 points, three assists) hit two free throws at 1:06, giving KU an 87-81 advantage. And he hit two more charities at :39.9 as KU led, 89-83, holding off the (12-3, 1-1) Sooners. Cameron Clark led OU with 32 points off 10-of-18 shooting.
Also for KU, Andrew Wiggins had nine points off 2-of-9 shooting, while freshman Conner Frankamp scored five points off 2-of-3 shooting in 13 minutes, sparking KU the first half.
"Coach said before the game he knew everybody was going to play a big role in this game," Selden said. "He said people were going to step up off the bench. That's what happened. Everybody stepped up and made shots (29 of 53 for 54.7 percent).
KU will next meet Kansas State at 1 p.m., Saturday, in Allen Fieldhouse.