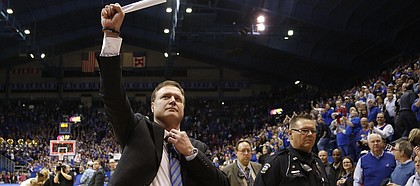 Photo Gallery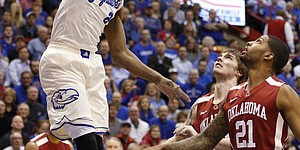 Kansas basketball v. Oklahoma
Images from Monday night's game between the Jayhawks and Sooners at Allen Fieldhouse.
Podcast
Press Conferences & Post-Game Interviews
Kansas basketball coach Bill Self discusses how Kansas beat Oklahoma to win a 10th straight Big 12 title on Monday, ...
Podcast
Press Conferences & Post-Game Interviews
Kansas basketball players Naadir Tharpe, Andrew Wiggins and Wayne Selden react to KU's Big 12-clinching win against Oklahoma on Monday, ...
KEEGAN RATINGS
KANSAS 83, OKLAHOMA 75
The lyrics and notes change, but the song remains the same. High school All-Americans around whom their teams revolved come to Kansas University with little clue just how hard they must compete to maintain a winning tradition like few others in sports.
Bit by bit, the teenagers surrender to their coach because they're tired of sitting or getting yelled at or being left behind by more driven athletes. Singled out for selfish play, embraced for making teammates look good, they quickly understand it's cool to be unselfish. Dive on the floor or be called the dreaded 'S' word: "Soft." 
Big men who run faster than the other team's big men. Everybody feeding off the roar of the best home crowd in college basketball. Young athletes popping out of shells of self-doubt by mimicking their coach's personality when competing. They learn not to waltz through open doors. They don't wait for doors to open, after having had so many opened for them in younger years because of their magnificent basketball talent. They bust them open with lowered shoulders. They start to talk like Bill Self, using the word "aggressive" liberally. And when all the wins and losses are counted, they grab at least a share of the Big 12 title, this time with three games remaining.
The song has played that way for 10 years in a row now and Monday's 83-75 victory against visiting Oklahoma that nailed down at least a share of the 10th conference title featured so many of the elements that have resonated throughout the decade of dominance.
Offensive balance: All five starters scored in double figures, led by junior point guard Naadir Tharpe. He has taken his share of criticism and then some and in his early days too often was stuck in retreat mode. In steering KU to its 10th consecutive title, he scored 12 of his 19 points in the last 6:01, during which time he steadily stretched a one-point lead.
Clutch play: In a game the Jayhawks couldn't match the energy with which they ran Texas out of the gym Saturday, they made 26 of 30 free throws.
Scoring in spurts: The score was tied eight times and the lead changed six times. The Sooners would catch up and in the manner Tom Seaver would summon a 97 mph fastball with a man on second and two strikes on the batter after not topping 93 mph all night, KU would produce one of its famous spurts, one of their signatures during 10 years of title perfection.
Kansas finished the first half on a 10-0 run that took just 2:30, the second half on an 18-12 run in which Tharpe matched OU's dozen points.
"The guys who come in and don't play a lot as freshmen and sophomores and then are really good as juniors and seniors" are the foundation of the program, Self said.
More than ever, freshmen are the keys to this year's team, but it's Tharpe who qualifies as the most pivotal performer. He won't always defend the way he did Saturday and close the way he did Monday, but if he can find a way to hold his own against bigger point guards, the combination of Andrew Wiggins' unguardable drives and Joel Embiid's monumental presence at both ends and Wayne Selden's veteran-like drive will give KU a good shot against all comers.
Explaining the decade of dominance, Self said, "You don't win unless you have better guys than the other guys and we've had better guys."
Truer words never have been spoken.
And those players have played for a better coach than any in Big 12 history. Truer words never have been written.