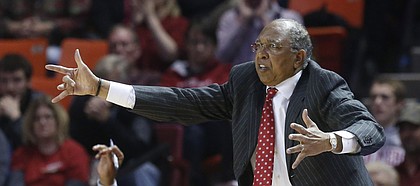 Lubbock, Texas — One victory in Texas Tech's final six regular-season basketball games would give the Red Raiders six wins in Big 12 conference play for the first time in six seasons.
Though that accomplishment would certainly impress Red Raider nation — Tech has won four Big 12 games combined the past two seasons — it would not necessarily be cause for celebration for first-year coach Tubby Smith, whose squad takes a 13-12 record, 5-7 in the league, into today's 7 p.m. home battle against Kansas University (19-6, 10-2).
"Good is not good enough when better is expected," said Smith, 62, who is in his 23rd season overall as a college head coach.
"I expect us to be a lot better than we are," added Smith, winner of a national title in 1998 at Kentucky.
Tech enters today's game with three victories (TCU and Oklahoma State at home; Oklahoma in Norman) in its last four games. Iowa State stopped Tech, 70-64, Saturday in Ames.
"They're a lot better," KU coach Bill Self said. "Tubby's done a fabulous job, he and his staff. They're playing hard. They are on a roll right now. They are playing great. What they did in Norman (68-60 win), having them down 20 in the second half, was certainly impressive. We know how easily OU scores."
Self expects a tough game tonight.
"We know how hard it is to win there," Self said.
KU has won the last three trips to United Spirit Arena after losing the previous three.
"Early in the season, they may have been drawing 4,000 to 5,000 (fans)," Self said. "Now they'll probably have 13,000 or whatever the sellout would be (15,098 in United Spirit Arena). I'm excited about our guys going into a good environment playing a good team. We'll have to be better to win down there."
Senior forward Jaye Crockett averages a team-leading 14.8 points a game and 6.7 rebounds. Junior forward Jordan Tolbert averages 10.8 ppg. Junior guard Robert Turner averages 9.7 ppg with 69 assists against 34 steals.
"We've got to go out and be prepared to win the game," KU sophomore Andrew White III said. "That team is tough. They've had some big wins this year. We need that win desperately. We'll practice, prepare like we have every other game, go down in a hostile environment and try to get a win."
KU (10-2) holds a one-game lead over Texas (9-3) in the league race. Oklahoma is 8-5, while Iowa State and Kansas State are 7-5.
"The next three games obviously will probably determine the league race in a lot of ways," Self said. "We have a chance with two of three at home (Texas on Saturday, Oklahoma on Monday) and a tough road game to maybe create some serious separation or get a chance to maybe not be where we want to be. It's a great opportunity for us. Texas Tech counts just as much as the Texas game."
Embiid returns: Self said he'd like center Joel Embiid to play at least 25 minutes tonight. Embiid missed Saturday's victory over TCU because of knee and back aches.
"That would be good. It means he wouldn't have mauled everybody the first half, which he's capable of doing also. His mauling takes longer than the one minute Tarik's (Black) took last Saturday," Self said with a laugh.
Self said the only possible problem is Embiid "might be a little winded because he hasn't done anything in a week."
"He practiced with us. He was looking good the way he was getting up and down, moving and being able to jump," junior guard Naadir Tharpe said. "He was trying to get his feel for the game like early in the season."
Embiid, who has 61 blocks, is one block shy of tying Eric Chenowith for the school record for blocks in a freshman season. Embiid has at least one block in 18 consecutive games. Chenowith's longest streak stopped at five straight his freshman season (1997-98).
Suspension over: Self said Brannen Greene would be available to play tonight. He missed the TCU game because of irresponsible behavior. Jamari Traylor missed the game before that (at Kansas State) for the same reason.
"The reason they sat out is we don't want to have any concerns heading into late February," Self said. "Here you do this (suspend a player) ... when I was at Illinois or Tulsa or whatever, nobody thinks a second thing about it. Here it obviously gets a little more attention. We've had a little slippage. Sometimes you do something to an individual so other people know the repercussions if they don't take care of business. Those kids are in good standing with me. They took their medicine and moved forward."
Player of week: KU sophomore forward Perry Ellis on Monday was named co-Big 12 player of the week with Baylor's Isaiah Austin. This marks the second time this season Ellis has won the award, while Austin was recognized for the first time. Ellis averaged 25.5 points and 9.5 rebounds in games against KSU and TCU. Baylor guard Kenny Chery won the league's newcomer of the week.
Tubby Smith on tonight's game: "They are the best team in the Big 12 and one of the best teams in the country. It's a very talented team from top to bottom, not only guys in the starting lineup but guys who come off the bench. It'll be our toughest task yet. They have one of the premier players in the country in Andrew Wiggins. Perry Ellis is playing great. Naadir Tharpe is a great leader, an exceptional point guard. We tried to recruit him at Minnesota," added Smith, who coached six seasons at Minnesota before taking the Tech job.
"If we can recover from a poor defensive effort Saturday (at Iowa State), I think we'll give Kansas a good run."
Recruiting: KU signee Cliff Alexander wants his buddy, unsigned JaQuan Lyle of Huntington (W.Va.) Prep, to join him at KU. Lyle, who is considering KU, Providence, Oregon, Oklahoma State, UConn and Memphis, will visit KU for the Jayhawks' game against Oklahoma on Monday night. He's ranked No. 22 nationally by Rivals.com.
"I talked to him a couple of days ago," Alexander told SNY.tv and Zagsblog.com. "He's still making up his mind. We need a 6-foot-4 point guard. We'd love to have that."
KU is also recruiting No. 6-ranked Myles Turner, 6-11 from Trinity High in Euless, Texas. Turner is said to be only interested in KU if Embiid heads to the NBA.
"It is what it is," Alexander said of KU recruiting Turner. "I think we'd fit in. He blocks shots and does the same things I do. I think it'd be a dominant combo."
Of possibly emerging as No. 1 recruit in the country, No. 4-ranked Alexander said: "I've played up to this point and I think I earned it, to be the No. 1 player in the country."