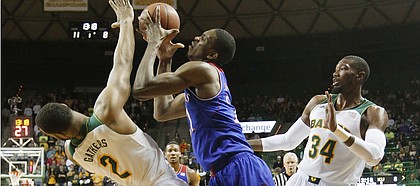 Brannen Greene disagrees with those who say some of Kansas University's first-year players, including center Joel Embiid, have hit the fabled "freshman wall."
"Joel has had a great freshman year. So has Wiggs (Andrew Wiggins), Wayne (Selden). All of us have had a pretty good freshman year. I'd say he's just a little beat up. He's got to get into rehab and get healthy," Greene, KU's freshman wing from Juliette, Ga., said Thursday.
Seven-footer Embiid, who hasn't practiced since Monday's loss at Kansas State, has been resting and rehabbing all week.
"Definitely," Greene said, asked if he can tell if Embiid is ailing. "He's always complaining about his back (that he hurt at end of the West Virginia game Saturday). He's going to treatment every day, though, so hopefully he's getting better with that. It's pretty obvious he's a little beat up."
Senior power forward Tarik Black noted: "Jo Jo is legitimately hurt. He's nicked up, bruised up. He'll be ready to play soon. Everybody in college is nicked up and bruised up. Look at every team, every roster. Everybody is hurt (at this stage of season)."
KU coach Bill Self said hours of treatment have helped Embiid, who also hurt his knee vs. TCU on Jan. 25. "He's had Tuesday, Wednesday and Thursday off and he feels better," Self said. "The MRIs tell us that there's a good chance he's going to get better quickly, that it's not something that should linger too long, if, in fact, we treat it and rest it appropriately now. If he's able to practice (today), then he'll play (Saturday against TCU, 3 p.m., Allen Fieldhouse), and if he's not able to practice, then I would say he would not play.
"Of course you think long-term, but also, you also know he'll have a better chance to perform in games in the future the less time he's off now, too. We're not going to do anything to jeopardize him at all, but based on the doctors and the trainers, they'll make the call along with Jo on him being honest with us and how he's feeling. A lot of times there's no reason to hold guys out if they're healthy, too."
Greene said it's obvious the Jayhawks are much better with a healthy Embiid on the floor.
"He's a rim protector — obviously an inside presence. If you throw it in the post he's a great finisher," Greene said. "He's one of the top two picks in the draft, so obviously we lose a lot. He's a great player."
Greene had one of his best games Monday at K-State. He had a basket off a rebound followed by a steal and hoop in KU's late-game comeback that forced overtime.
"I tried to bring energy. I felt that is what would keep me on the court and it did," said Greene, who had 10 points in 15 minutes.
Traylor to play: Sophomore forward Jamari Traylor will play in Saturday's game, Self told the Journal-World on Thursday night. Traylor had been held out of Monday's loss because of disciplinary reasons. Self, who met with Traylor before practice on Thursday, had no comment on the matter except to say Traylor would play.
Midseason list: Embiid and Wiggins have been named to the list of 30 candidates for the Naismith College Player of the Year award, the Atlanta Tipoff Club announced. Other Big 12 players on list: Melvin Ejim, DeAndre Kane, Marcus Smart.
Tyler has surgery: KU sophomore Tyler Self had foot surgery Wednesday and will be sidelined four to six months, Bill Self said, noting the surgery was to fuse bones in his son's foot. Tyler tore ligaments in the top of his foot in October. He will red-shirt this season.
Recruiting: JaQuan Lyle, a 6-5 combo guard from Huntington (W.Va.) Prep, will attend the Feb. 24 KU-Oklahoma game as part of an official recruiting visit, Zagsblog.com reports. He's considering KU, Providence, Oregon, Oklahoma State, UConn and Memphis. He's ranked No. 22 in the Class of 2014 by Rivals.com.
NBA players in house: Self said he wasn't sure which of KU's players in the NBA would attend the TCU game. It's believed Nick Collison of the OKC Thunder will be in the stands.
Self on former KU coach Larry Brown's SMU team being ranked: "I think it's awesome to see where they've been and to see the interest level and the new arena and bringing college basketball excitement back to the metroplex I think is really cool. And to be ranked and everything, that's quite an accomplishment in a short amount of time. Of course, everybody that knows him knows that it would happen."