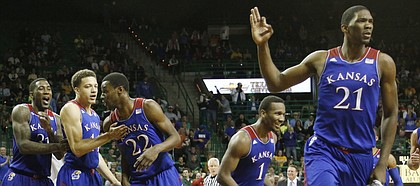 Photo Gallery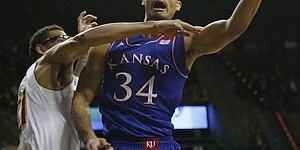 Kansas basketball v. Baylor
Images from Tuesday night's game between the Jayhawks and Bears in Waco, Texas.
Podcast
Press Conferences & Post-Game Interviews
Bill Self talks Tharpe, Wiggins, defense after 69-52 victory at Baylor.
KEEGAN RATINGS
KANSAS 69, BAYLOR 52
Waco, Texas — When a player arrives in college basketball lugging outrageous expectations and doesn't hide his intention to stay just one year, it's as if every game counts as 10. 
Do the math and that calculates to Andrew Wiggins being seconds from a 15-game slump when he stole a pass under the hoop, took a few dribbles and buried a half-court shot to beat the buzzer and the slump. It lasted three halves in real time, 15 games in Wiggins time.
The shot lifted a ton of weight from Wiggins and it showed.
"It helped my confidence a lot instead of going into halftime scoreless, I scored," Wiggins said.
It made him play with a freer mind in the second half of Kansas University's impressive 69-52 Tuesday night beat-down of Baylor in the Ferrell Center.
"We ran that play for him at the end of the first half to get him going," Kansas coach Bill Self quipped. "He obviously wasn't plugged in offensively in the first half. He's had a tendency to do that at times. Second half, he obviously was more aggressive."
Still, on a night his shots didn't drop — he made 4 of 13 from the field and just 2 of 10 from inside the arc — Wiggins influenced the game in many other areas, a sign he is improving. The freshman from Toronto had five assists, three steals and two blocked shots and did not commit a turnover.
"I think I've grown up a lot," Wiggins said. "A couple of weeks ago, when I played bad, I would get really down on myself. But I know scoring's not everything. You can still do stuff to open things up for your teammates, get rebounds, you can still do other things to affect the game."
Such lessons aren't learned as easily in AAU games, which often more closely resemble the style of NBA All-Star contests.
"It's different," Wiggins said of college basketball. "I'm learning a lot now in college. For me, I'm getting better each week. It's like a learning experience for me."
Just another college student learning, give or take several million dollars that will be on a contract he'll sign after the NBA draft.
Senior center Tarik Black, who had a terrific game on a night freshman Joel Embiid did not, once was a highly advertised freshman for Memphis, although not to nearly the same degree as Wiggins.
"It's a growing process for all of our young guys and Wiggs has handled it very well, especially with the attention that comes along with his growing process," Black said. "A lot of freshmen go through ups and downs and there's always a freshman wall. All of us go through that. He's had to go through it with the media in his face, 24/7, the spotlight on him all the time. That adds that next level of pressure. He's handled himself very maturely and I'm very proud of him."
Self gave Wiggins high marks in that regard as well.
"This is different from anything I've ever gone through," Self said. "We've had some pretty good players, but we haven't had anybody that they put him on the Sports Illustrated (cover) and compared to (Wilt) Chamberlain and (Danny) Manning. The kid should be a high school senior. I don't think that the hype has hurt him much from a mental draining standpoint. I think he's handled it all beautifully."
Handling hype and meeting expectations are two different things. The first is attainable, the second impossible.
"I also think the hype has created a negative tone in people's minds because the hype made people believe he should get 22 and 10 every night and he can't," Self said. "He's not (Kevin) Durant. That's not what he does. He's not a scorer like that. He's a slashing wing who's figuring it out. I will say this: From my standpoint, even though he didn't have his best night tonight, but when you talk about upside and talent, there are not many guys out there like him."
Talent doesn't always win the tug-of-war with youth. Wiggins was limited to seven points in Saturdays' 12-point loss at Texas.
"I missed a lot of shots I usually make," Wiggins said of the loss. "I missed some layups. I don't think their defense did anything to make me miss. I just missed my shots. I missed open pull-ups, I missed my little step-back that I like."
And he missed his first three shots Tuesday night, when the rowdy Baylor hecklers reminded him every possession that he had not scored.
Then he ended his brief eternity of a slump with a shot that looked true when he released it. He said he had last hit a half-court shot to beat the buzzer during his junior year in high school at the end of the first quarter of a game. He said when players launch them for fun in practice, he doesn't hit them.
"That was amazing," Black said. "That was ESPN top 10, if not No. 1. I think it's No. 1, but we'll see."
Said Perry Ellis, who helped the cause with 14 points, 10 rebounds and two blocked shots: "It was big. It pushed us through at halftime. It even got him going."
Wiggins scored 11 of his 14 points in the second half.
"He was attacking the rim and we were looking for him," Ellis said. "We threw those couple of lobs to him and he was being a lot more physical."
In a span of 93 seconds, Wiggins turned a five-point lead into a 12-point game by hitting a three-pointer, finishing a lob and ramming in a high-velocity jam on a pass from Naadir Tharpe in transition, an entertaining peak at the future that with 7:49 left ensured KU a comfortable lead the rest of the way.